June Business After Hours: From Passion to Business
Jun 27, 2017
from 18:30 till 21:00
Miera Street 29/31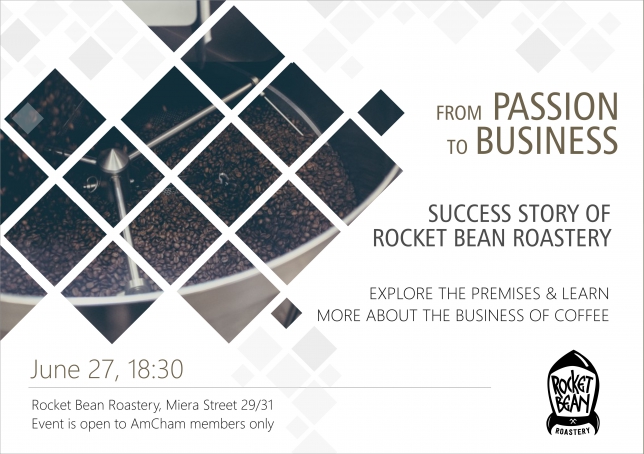 Our monthly Business After Hours in June was hosted by Rocket Bean Roastery. Rocket Bean founders shared their journey in creating a successful brand that revolves around a true passion for coffee. Members enjoyed food and drink and participated in a taste test. It is clear upon listening to Rocket Bean founders that the company's success stems from their dedication to share the experience of coffee in its truest and freshest form. The event was held on the premises of Rocket Bean (Miera Street 29/31), a space geared toward creative minds.

ABOUT ROCKET BEAN

You might think you're fine settling for "okay" coffee. The fact of the matter is, a cup of bland, okay coffee is ingrained in our morning routines. After you have tried Rocket Bean Roastery's juicy, fruity, nutty and altogether wonderful espresso from popular countries, your morning routine might just have to change. Rocket Bean's "banging" coffee is far from okay. In fact, Rocket Bean Roastery prioritizes quality above all else, importing coffee beans from the best plantations around the world. But that's not enough. Rocket Bean answers the question, what is important for a great espresso? The answer is this: coffee beans, roasted in a right way. Coffee roasting is a bit of science, a bit of intuition, and a whole slew of rich flavors. Then follows the magical interaction with the flavor of an espresso. A lot of knowledge is needed to understand and create a perfectly balanced espresso drink-- the consistency of the grind, the amount of coffee and the extraction time affects the quality of an espresso. But the creation of the perfect espresso does not involve rocket science; It does, however, involve Rocket Bean Roastery. Anyone interested in learning about the art of coffee can learn from the master by participating in Rocket Bean Coffee School, a weekly cupping session, or by visiting their website and finding some tips.
Rocket Bean roasts its coffee beans slightly dark, not letting them get to too dark brown or even close to black tones. All in all, the company wants to get the best flavors out of coffee while at the same time keeping the juicy and energizing aromas. Only grinded in a porta-filter and made using espresso machine, with small streams and drops our coffee reveals the best of it, brought from sunny, shadowy, windy or rainy plantations. It is a great experience and a wonderful, thrilling and positive journey, made possible by a single cup of coffee.
The Rocket Bean coffee shop offers magical espresso coffee beans from three powerful coffee countries – Ethiopia, Brazil, and Guatemala.
< Back to Events

Together with AmCham we can develop our networking not only in the local market with local companies, but also reach out to good partners far away from Latvia.
Ugis Grigorjevs, Head of Sales at Nordwoc