Leaders of today meet leaders of tomorrow
Apr 27, 2016
from 15:00 till 20:00
Riga Business School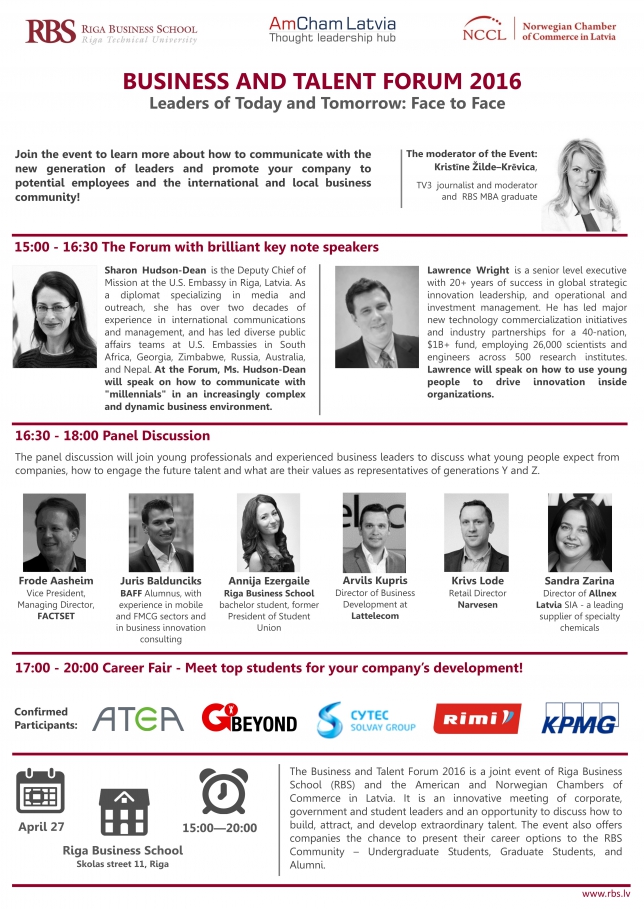 The Business and Talent Forum 2016 is a joint event of Riga Business School (RBS) and the American and Norwegian Chambers of Commerce in Latvia. It is an innovative meeting of corporate, government and student leaders and an opportunity to discuss how to build, attract, and develop extraordinary talent.
This year's focus was on leaders of today and leaders of tomorrow – what they have in common and what they do differently. What future talents expect from companies, how to engage them and what are their values as representatives of generations Y and Z.
Keynote speeches were provided by Sharon Hudson-Dean, Deputy Chief of the US Embasy in Latvia and Lawrence Wright, Senior level Executive. Ms. Hudson-Dean spoke on communication with millennials while Mr. Wright focused on how young people drive innovation inside companies.
In an interactive panel discussion, young professionals were joined by experienced business leaders to discuss what young people expect from companies, how they could be engaged and motivated and the main challenges arising for companies with the millennial generation as the workforce.
The forum served as an innovative platform between corporate, government and student leaders to discuss the recent trends in developing, attracting and retaining future talent.

During the Career Fair, which took place concurrenlty with the forum companies had the chance to present their career options to the RBS students, and alumni.
< Back to Events
Being part of AmCham is a great way to maintain business contacts with entrepreneurs and professionals.
Normunds Bergs, Chief Executive Officer, SAF Tehnika