Drupa team wins Best Chili
Sep 25, 2014
from 19:00 till 22:00
PinUp Restaurant&Bar, Pils 7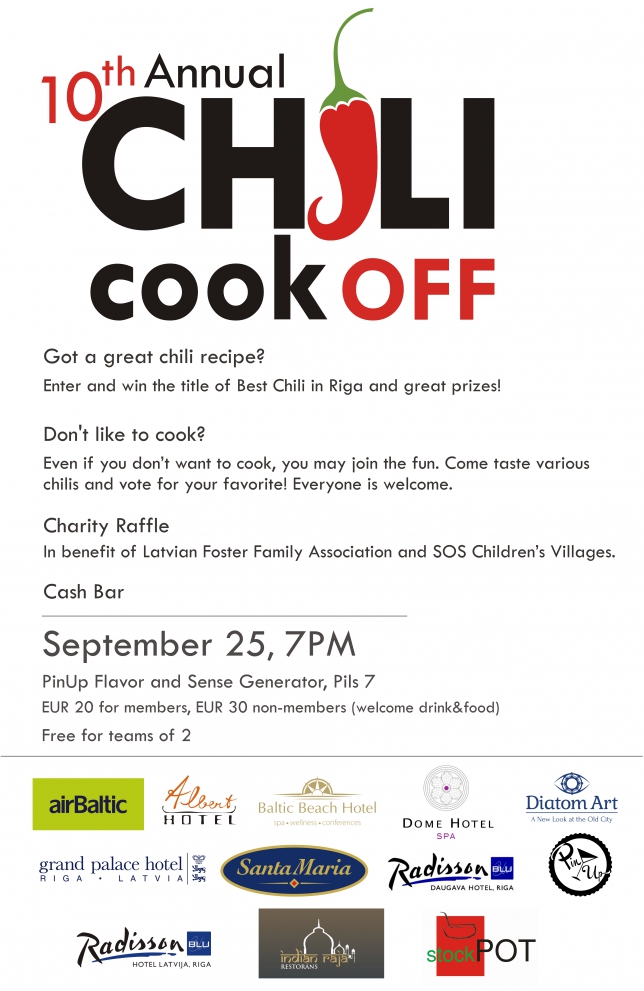 The Drupa team, represented by Viesturs John Drupa and Mara Bertina made their chili a winner at the AmCham's 10th Annual Chili Cook-Off on September 25 at the restaurant
PinUp
.
After winning 2nd place for three consecutive years, the Drupa team finally made it with their Banditos Chili. The Drupa team received the title Best Chili Riga 2014 and a special Chili Pepper Award. In addition, they were awarded prizes from Radisson Blu Hotel Ridzene and Albert Hotel. The Drupa family also received Naga Ghost or Bhut pepper, which is said to be the hottest chili in the world.
Asked about his winning recipe, Viesturs John Drupa put it down to three basic ingredients: good local food, spices from all over the world and love. "Good chilli is made with love. It is as simple as that," Drupa was concise.
2nd place was awarded to the LAWIN team for their License to Chill. 3rd place went to the Albert Hotel team for their Spiciness formula Chili.
Justin Bancroft with Cinncinati Chipotle Chili won People's Choice Award determined by the public vote.
The jury consisted of expert chili tasters and chefs: Sharon Hadson-Dean, Charge d'Affaires of the U.S. Embassy; Matīss Kukainis, last year's winner and President of AmCham, Richard Johnson, Chef of Restaurant StockPot and Karlis Roberts Celms, American Chef and Owner of the restaurant Tvaiks. Judging was done anonymously by evaluating each chili by aroma, appearance, taste and aftertaste.
The Annual Chili Cook-Off has become a traditional autumn event where AmCham members and friends compete for the Best Chili in Riga award.
8 teams participated in this year's Cook-Off including:
The Albert Hotel team: Fēlikss Neimanis and Joanna Osmane with Spiciness formula Chili
Justin Bancroft with Cinncinati Chipotle Chili
The CBRE team: Santa Rozenkopfa, Iveta Priedīte and Iveta Valtere with Old Town Chili
The Drupa team: Viesturs John Drupa and Māra Bērtiņa with Banditos Chili
The Dome Hotel & Spa team: Jānis Pinnis and Māris Astičs with Chili Le Dome
The Indian Raja team with Chillindia
Masters of Toasts: Kristīne Kamerāde and Līga Piebalga with Burning Love
Red Hot LAWIN Peppers: Raimonds Slaidiņš, Ivars Slokenbergs, Krista Zariņa, Kristīne Meija, Sarmis Spīlbergs, Kristiāna Lauga, Reinis Sokolovs and Jānis Gavars with License to Chill
< Back to Events

AmCham represents the interests of its members, making membership a valuable asset.
Matiss Kukainis, Partner at Spigulis & Kukainis