Nebraska Nice team wins Best Chili 2019
Oct 15, 2019
from 19:00 till 21:00
Pullman Riga Old Town, Jekaba street 24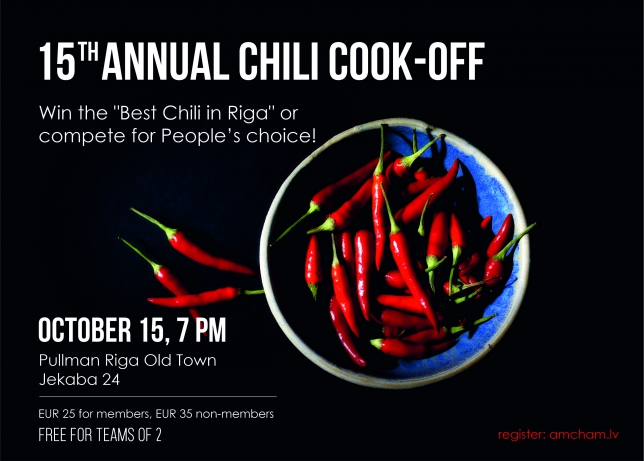 The Nebraska Nice team, represented by Jeffrey Grinvalds and Rita Treija won the title of the Best Chili in Riga 2019 for Husker Heatwave chili. The Runa team received the most votes from attendees and won the People's Choice Award for The Best Vegan Chili.
The Radisson Blu Latvija Conference & SPA Hotel team won second place for Sky Cooked Chili Beef, and AC DC team from AC Hotel by Marriott Riga with Pulled Beef Chili Con Carne came in third.
All chili entries were evaluated by an expert jury, which consisted of chili tasters and chefs: Martins Sirmais, Chef and host of food show "Sirmais. Kulta edieni"; Michael Ritchie, Political/Economic Officer of the U.S. Embassy, Artis Kehris, COO and Director of Printify and Elfa Ābiķe-Skrābane, Chef of 3 pavāru restorāns. Judges assessed each chili by aroma, appearance, taste and aftertaste. 
The Nebraska Nice team received a special trophy Chili Pepper Award and prizes from AC Hotel by Marriott Riga, private beer tasting provided by Beerfox and movie tickets from Forum Cinemas.
The Annual Chili Cook-Off is a traditional autumn event where AmCham members and friends compete for the Best Chili in Riga award.
9 teams participated in this year's Cook-Off including:
• AC DC Team: Mārtiņš Grundmanis and Edgars Spule from AC Hotel by Marriott Riga with Pulled beef chili con carne
• Chili Chiefs Team: Steve Vis and Mark Robertson-Jones from International School of Latvia with Chili Surprise
• DE Kitchen Team: Yogesh Deshpande from Cognizant with Misal Pav chili
• Equus Grill & Chill team: Jevgenijs Jasņickis and Ivars Mulis-Dzelvītis from Pullman Riga Old Town/Equus Restaurant with Serge's Special chili
• Hot Lo & Chili Di Team: Lolla Sulga and Deniss Percatijs from Radisson Blu Daugava Hotel with Panorama Chili 
• Indian Raja Team: Līga Mūrniece and Rajendra Singh Gopalsingh from Indian Raja with chili Sunny's Terror 
• Nebraska Nice Team: Jeffrey Grīnvalds and Rita Treija from Fantasy Brackets with Husker Heatwave chili
• Rūna Team: Inese Treiliņa-Bergmane, Lauma Brūvele and Baiba Bērtulsone-Aasheim with The Best Vegan Chili
• Sky cooked chili beef Team: Victor Manuel Barajas Garcia and Māris Leimanis from Radisson Blu Latvija Conference & SPA Hotel with chili Sky cooked chili beef
Thank you to supporters:

< Back to Events

We re-affirm our commitment to the values that AmCham stands for and that we share.
Kārlis Danēvičs, Board member, Head of Credits and Risk at SEB Banka