Tech is changing the way we live
Jun 03, 2021
from 13:00 till 14:00
Online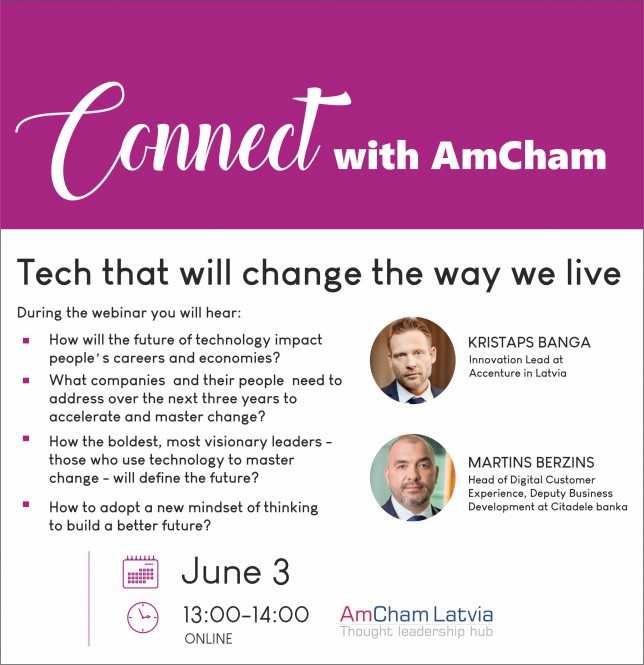 On June 3, we held an educational webinar devoted to the topic of the future technology in Connect with AmCham series with excellent experts - Kristaps Banga, Innovation Lead at Accenture in Latvia and Mārtiņš Bērziņš, Head of Digital Customer Experience, Deputy Business Development at Citadele banka.

After the huge disruptions caused by COVID, companies are looking to get back on course and build for the future. The past year has poked holes in long-standing norms about how companies operate and how people live. Companies have also learned that leaders don't wait for the "new normal," they build it themselves. Big changes today require bold leadership—and prioritizing tech. And it's not just about fixing the business, but upending convention and creating a new vision for the future. It's a unique moment to rebuild the world better than it was before the pandemic – expanding our definition of value to include how well people thrive, the impact left on the environment, growing inclusivity and more.
According to Kristaps Banga, COVID-19 has speeded up e-commerce services and particularly raised telemedicine services that reached 60% growth and benefited both patients and healthcare industry.
Mārtiņš Bērziņš emphasized the ability of Citadele banka to a quick adoption to the change brought by the pandemic: "During COVID-19 the bank has introduced different solutions to serve our customers remotely such as digital onboarding. The bank has also launched virtual assistant to support customers with their problems."
Both experts touched upon the topics of the future of technology and its impact on people's careers and economies and ways companies—and their people—need to address technology-related challenges. They also discussed how the boldest, most visionary leaders – those who use technology to master change – will define the future and how to adopt a new mindset of thinking to build a better future.

Connect with AmCham webinars aim to share knowledge of our members, as we navigate through the COVID-19 crisis. If you would like to share best practices in your area of expertise that could be helpful for the international business community, we are here to listen and learn from you!
< Back to Events

AmCham is a place to meet representatives of other industries and understand the business environment.
Signe Velina, Market Access Manager Latvia of Johnson & Johnson