Tracking genetic evolution of COVID-19
May 06, 2020
from 15:00 till 15:45
Online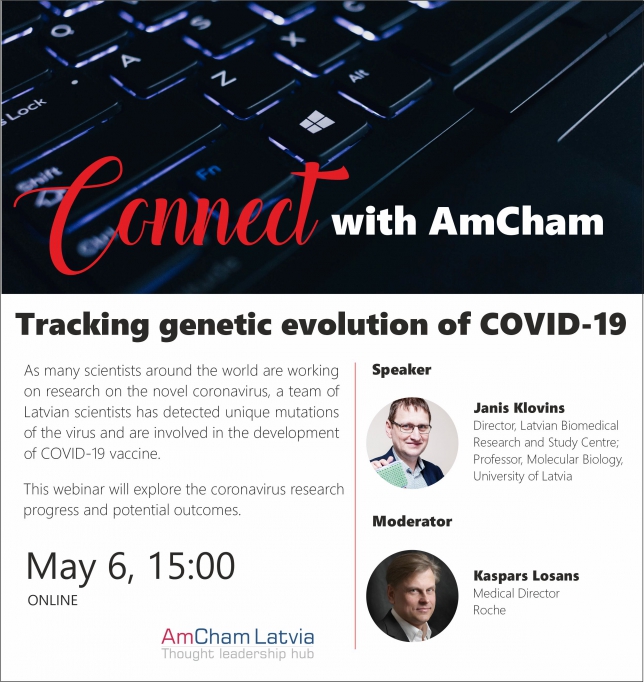 25 members joined the webinar with Janis Klovins, Director of Latvian Biomedical Research and Study Centre and Professor of Molecular Biology at the University of Latvia to find out more on the coronavirus research progress and potential outcomes. The webinar was moderated by Kaspars Losans, Medical Director of Roche Latvija.

Watch the entire webinar below:

According to  Dr. biol., Assoc. prof. Klovins, personalized medicine is one of the main research directions in biomedical field since 2005. It includes developoment of the National Biobank, infrastructure for OMICS technologies and network of collaboration betwen research institutions and clinics. Main current directions in precision medicine and biotechnology are diganostics of rare diseases, cancer treatment choices and monitoring, prevention and pharmacogenomics of common diseases as well as vaccine development.
He explained that first two candidates for vaccines have been developed and submitted for testing to partners in Switzerland and long-term investments in research is a pre-requisite to be able react to situations like the COVID-19 pandemic. 

Speaker: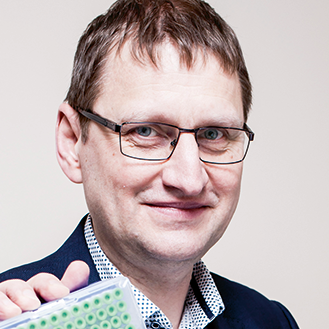 Janis Klovins, Director of Latvian Biomedical Research and Study Centre and Professor of Molecular Biology at the University of Latvia 
Since 2016 Professor Klovins is the Chairman of the Latvian Science Council. He is also a full member of the Latvian Academy of Sciences and a member of numerous professional and advisory committees..
Janis Klovins graduated from the University of Latvia in 1996 and obtained his PhD at Leiden University in 1999. He performed his postdoc research at the Department of Neuroscience, BMC, Uppsala University. During that time he received several prestigious fellowships including Marie Curie Individual Fellowship, EMBO short term fellowship, and Wenner-Gren fellowship. 


After return to Latvian Biomedical Research and Study Centre in 2005 he founded the research group in LBMC and established the Genome Centre becoming the head of this unit. Since 2006 he led the establishment of Genome Database of Latvian Population, the national biobank that comprises biosamples and associated phenotypic and clinical information of over 35'000 participants from the Latvian population. 
Recent research activities of Prof. Klovins are concerned with genomics and microbiome research in the Latvian population. In particular, his research concerns the complexity of antidiabetic drug responses in patients of type 2 diabetes, it goes beyond the pharmacogenomics and demonstrates the system-based approach involving the investigation of the microbiome and epigenetic factors determining the response of diabetes treatment.
Moderator: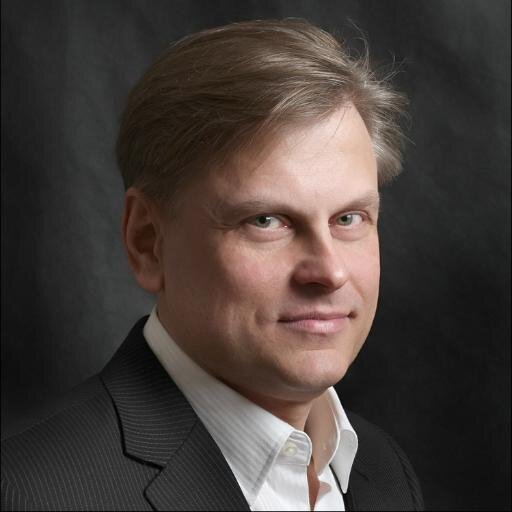 Kaspars Losans, Medical Director at Roche 


AmCham webinars are organized in order to provide relevant expert knowledge and share best practices between members in the context of circumstances resulting from the global pandemic. We encourage our members take part in these webinar series both as experts and participants. Let us know if you have a subject to present or discuss in the new series!
< Back to Events

AmCham is based on values and behaviors that enable its members to fulfill a common purpose - a sustainable and transparent business environment, and we are truly proud to be a part of this growing community.
Edgars Skvariks, Corporate Public Affairs Manager at Bayer