Executive Leadership Series
Dec 13, 2013
from 08:00 till 09:30
Dome Hotel & SPA, Miesnieku 4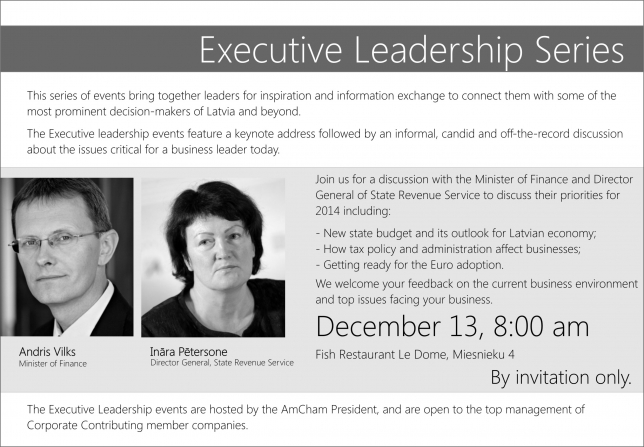 Today top management of Corporate Contributing members met for the breakfast at the Dome Hotel & SPA to discuss the state budget and tax policy with the Minister of Finance Andris Vilks and Ināra Pētersone, Director of State Revenue Service.
Discussed were their priorities for upcoming 2014 including:
New state budget and its outlook for Latvian economy;
How tax policy and administration affect businesses;
Getting ready for the Euro adoption.
The Executive Leadership Series events are hosted by the AmCham President and are open to the top management of premier level member companies.
< Back to Events

AmCham reflects our values and enables us to meet similarly-minded people.
Daiga Auzina-Melalksne, Chair of NASDAQ Riga