Government and FICIL agree on common objectives
Sep 08, 2022 - Sep 09, 2022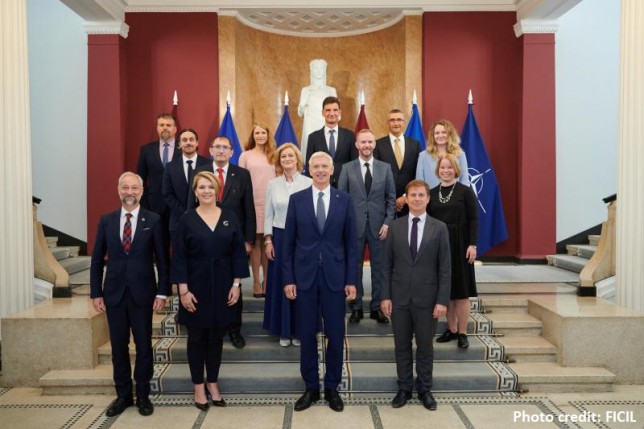 In September 2022, FICIL members and high-level public sector representatives met at the 26th High Council Meeting among FICIL and the Government of Latvia. As we continue to deal with the consequences from Russia's ongoing invasion of Ukraine, conversation focused on defence topics, energy crisis and the necessary decisions from the Governments side to improve the business environment as such.
This year, FICIL concentrated on areas that need the most improvement such as quality of legislation, governance over public administration and implementing horizontal policy with the ultimate aim to ensure an attractive investment environment. Also, in FICIL's recently published position papers, recommendations are identified in priority areas – public sector reform, labour force availability, including requalification and upskilling, fair competition and court efficiency, quality of legislation, energy independence and security, shadow economy and implementing EU's Green Deal and Latvia's Green Strategy.
The 26th FICIL High Council Meeting kicked off on September 7th with a reception hosted by the President of Latvia, H.E. Mr. Egils Levits. Participants discussed topics that are crucial for both improving the current investment climate in Latvia and attracting new investment. President of Latvia and FICIL members agreed on the changes that are necessary to improve the effectiveness and inter-institutional cooperation of the public sector.
On the second day, 8th of September, FICIL members meeting was joined by the Prime Minister of Latvia, Mr. Krišjānis Kariņš. The discussion focused on geopolitical challenges, energy independence and public sector transformation. The Prime Minister assured business representatives that the Government has prepared measures to alleviate pressure on households and businesses during the next heating season. The Prime Minister also reiterated that Latvia is a safe place for investment and invited all foreign investors to continue investing. In the afternoon, FICIL held four different work groups together with public sector representative on:
Labour force availability – re-qualification policy;
Fair competition during crisis (focus on combating shadow economy);
Energy independence;
Public sector reform.
On September 9th, FICIL Board met with the Prime Minister and other representatives from the Cabinet of Ministers – minister of justice J. Bordāns, minister of transport T. Linkaits and minister of economics I. Indriksone. FICIL presented the main recommendations to improve business climate and discuss ways to address the most pressing issues that businesses experience. During the meeting the Chairperson of FICIL Board, Zlata Elksniņa-Zaščirinska and the Prime Minister of Latvia, Krišjānis Kariņš signed a joint communiqué outlining steps that the Government should take to improve Latvia's competitiveness.
About the Foreign Investors' Council
FICIL is a non-governmental organization that unites the largest foreign companies from various industries, foreign chambers of commerce, and the Riga School of Economics (SSE Riga). FICIL's mission is to improve Latvia's business environment and competitiveness in attracting foreign investment, making use of the experience and knowledge of its members in order to provide recommendations to the government.
< Back to Events
I look forward to promoting stronger U.S.-Latvia ties and working with AmCham members to ensure Latvia is a trusted destination for international business.
John Tully, Chairman of the Board of MikroTik