Health Data Summit: Digital Leap for Improved Patient Care
Nov 26, 2021
from 10:00 till 17:00
Online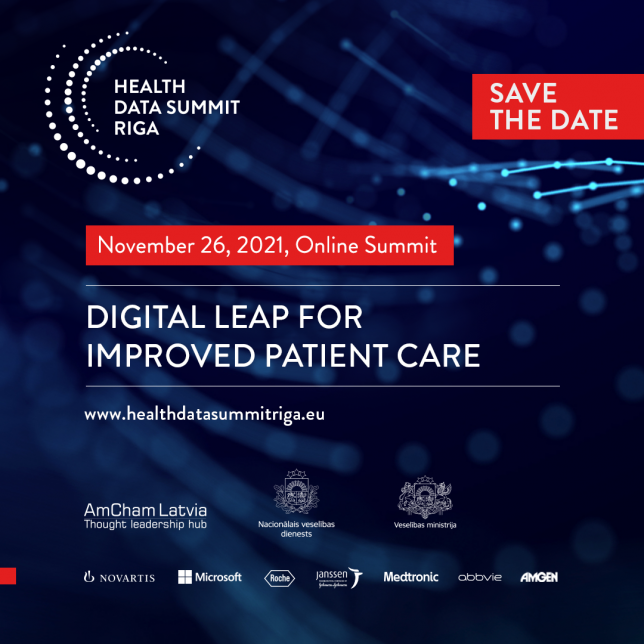 On November 26, the Ministry of Health, the National Health Service and AmCham Latvia organized the Health Data Summit Riga II: Digital Leap For Improved Patient Care. It focused on patient-centered care and explored health innovations and their benefit for patients and doctors as well as ways to make entire systems more effective.
The aim of the summit is to raise awareness of the importance of healthcare data and the necessity to invest in digital health strategy by various stakeholders: patients, policy-makers, industry and society-at-large. The summit would like to inspire health innovations to benefit patients and foster public-private partnerships to accelerate innovation and acceptance of digital solutions. The recording of the summit is available HERE
The speeches and discussions were centered around two main topicthe s – "Health data and infrastructure" and "Empowering healthcare innovations" featured by pitches, best practices and start-up examples of the following companies: Datamed, Diabeter, LightSpace Technologies, SmartOmica, Topicus, Vigo Health, Vreach and WorldUpstart Corp. The pitches will be followed by panel discussions.
The summit was joined by high-level decision-makers, patients, practitioners, researchers, industry leaders and health tech community, including Daniels Pavluts, Minister of Health of Latvia; Magnus Heunicke, Minister of Health of Denmark; Mario Romao Director EU AI and Global Healthcare Policy, Intel; Troels Bierman Mortensen CEO and Founder of DataFair and Prashant Shah, Global head of AI for Health and Life Sciences at Intel Corporation. Patient stories will be shared by Baiba Ziemele, Board member of World Federation of Hemophilia and President of Latvian Alliance of Rare Diseases and Harijs Gals, Patient of Association for Lung Patients.

The summit was hosted by the Ministry of Health of Latvia, the National Health Service, AmCham Latvia in cooperation with Novartis Baltics, Microsoft Latvia and Roche Latvija. Partners: Janssen and Medtronic, and supporters AbbVie and Amgen.
< Back to Events

AmCham is a great place for networking, exchanging ideas and generating new business directions.
Peteris Kokovkins, Director of Baltic Technology Group