IWCR Christmas Charity Bazaar
Dec 07, 2013
from 11:00 till 16:00
Riga Town Hall, Ratslaukums 1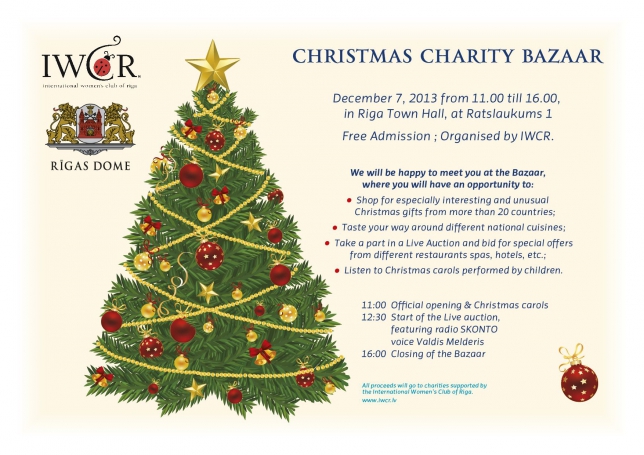 The 17th International Christmas Bazaar first count shows that over LVL 19 000 were collected on December 7, which will offer tremendous help in continuing and increasing charity work throughout Latvia!
10% of the proceeds will be donated to the Zolitude's victims.
The event was a success thanks to the combined support from both diplomatic and business communities, schools, media outlets, IWCR members as well as AmCham and its members.

The charities the IWCR supports are as follows:
Teika Orphanage
Mārtiņa Māja in Liepāja
Hope for Children
Missionaries of Charity
Women's Prison Iļģuciems
Crisis center Namiņš in Auce
SOS Children Villages
Saint Saviors' Church
Ronald MacDonald Care Mobile
Marsa Gatve
Btlēmes Māja
Irlava Orphanage
Details of the charities we have been able to support can be found at the IWCR website www.iwcr.lv.
The event is already generously sponsored by our members Amber SPA Boutique Hotel, Bite Latvija, Coca-Cola, Dome Hotel & SPA, Grand Palace Hotel, Hotel Bergs, Radisson Blu Daugava Hotel and Radisson Blu Elizabete Hotel.
< Back to Events

We re-affirm our commitment to the values that AmCham stands for and that we share.
Kārlis Danēvičs, Board member, Head of Credits and Risk at SEB Banka