The sky's the limit for transatlantic partnership
Apr 03, 2014
from 11:30 till 14:00
Radisson Blu Hotel Latvija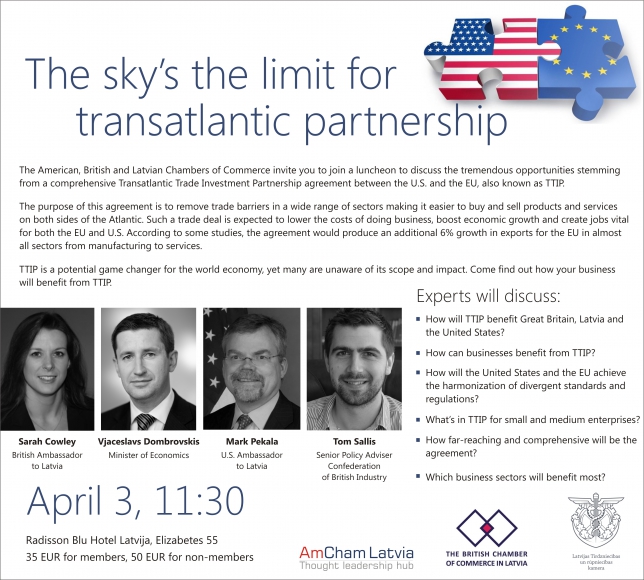 Today, the American, British and Latvian Chambers of Commerce held a business luncheon to discuss the tremendous opportunities stemming from a comprehensive Transatlantic Trade Investment Partnership agreement currently negotiated between the U.S. and the EU, known as TTIP.

During the discussion British Ambassador Sarah Cowley, U.S. Ambassador Mark Pekala, Minister of Economics Vjaceslavs Dombrovskis and Confederation of British Industry (CBI) Senior Policy Adviser Tom Sallis provided remarks about TTIP and its impact on Latvia, Europe and the U.S. as well as about the opportunities for businesses and citizens.

At the event, a video produced by the U.S. Embassy in Riga was launched. The video features key facts about TTIP and interviews with Latvian business representatives and can be viewed here.
The purpose of TTIP is to remove trade barriers in a wide range of sectors making it easier to do business, boosting economic growth and creating jobs on both sides of the Atlantic. Such a trade deal is expected to lower the costs of doing business, vital for both the EU and the U.S.

The British Ambassador said: "The EU and the U.S. has the largest bilateral trade relations in the world, accounting for 45% of global GDP. TTIP, as a once-in-a-generation opportunity, is a top priority for the British government for deepening and strengthening this already strong relationship."
The U.S. Ambassador said: "TTIP will enhance prosperity. It means more jobs, trade, income and benefits for consumers. There would be no losers with TTIP as it will benefit everyone, including small and medium sized enterprises." Ambassador Pekala stressed possible cooperation in energy sector, in particular, export to the countries with which the U.S. enjoys free trade agreements.

The Minister of Economics elaborated on the TTIP benefits for Latvia, namely, by ensuring diversified energy supply and by reducing non-tariff barriers that would make it easier for Latvian companies in pharmaceutical, chemicals and food processing industries to bring their products to the U.S. market.

Tom Sallis of CBI in Brussels offered insights into business opinion on TTIP. "Transatlantic market is highly interconnected, but there are still many impediments to international trade. TTIP will set global standards that could result in other countries following suit."
Find out more about TTIP:
The European Commission: "Transatlantic Trade and Investment Partnership The Economic Analysis Explained"
Centre for Economic Policy Research London: Reducing Transatlantic Barriers to Trade and Ivestment: An Economic Assessment
Office of the United States Trade Representative: Transatlantic Trade and Investment Partnership
European Commission Trade DG: What is the Transatlantic Trade and Investment Partnership?

AmCham EU's final position on TTIP
< Back to Events

Today is the key moment to demonstrate the values we share with AmCham and support like-minded businesses
Jekaterina Novicka, Partner of Business Development, Orients Audit & Finance