Setting stage for Saeima election
Sep 20, 2018
from 18:00 till 21:00
Radisson Blu Daugava Hotel, Kuģa 24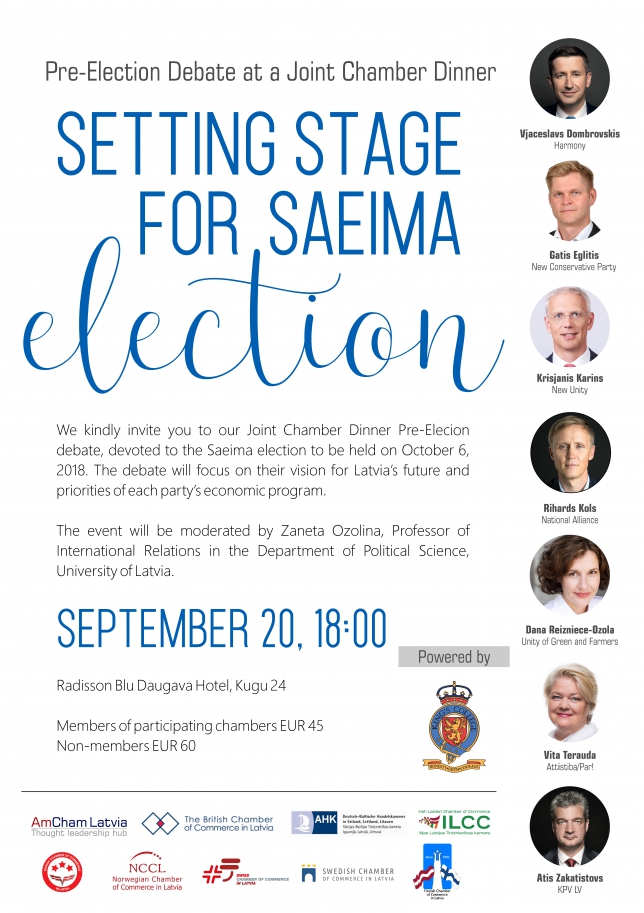 Responding to an invitation from nine foreign Chambers of Commerce in Latvia, representatives from seven political parties presented their vision for Latvia's future and priorities of each party's economic program. The debate took place on September 20 at the Radisson Blu Daugava Hotel. Party representatives shared their views on improving the court system and insolvency processes, increasing government efficiency, addressing income inequality and labor shortage, advancing education reforms and many other issues.


Representatives from seven political parties joined the debate, including Vjaceslavs Dombrovskis (Harmony), Gatis Eglitis (New Conservative Party), Rihards Kols (National Alliance), Dana Reizniece-Ozola (Unity of Green and Farmers), Krisjanis Karins (New Unity), Vita Terauda (Attīstībai/Par!), and Atis Zakatistovs (KPV LV). Invited to the debate were parties running for the next Saeima, which were leading the polls in August, 2018.

Even though, according to the debate's moderator, Professor of International Relations in the Department of Political Science, University of Latvia, Zaneta Ozolina, the debate does not differ much in terms of its format and contents from previous pre-election debates, this was probably the only chance for foreign investors to ask their questions directly to the political parties competing for seats at the Latvian Parliament. The debate took place in English and was attended by more than 120 business and foreign diplomatic service representatives.
Among the most topical questions asked by the chamber members were questions on scaling up fight against corruption, addressing the critical issues in the court system and insolvency process, as well as ensuring reforms and raising the quality of the Latvian educational system. Among other questions asked by the audience were the party positions on whistleblower protection and lobby regulation, which received unanimous support from all representatives. Foreign investors were also interested in the party outlook on increasing government efficiency and reducing public administration, as well as party plans to promote export capacity.
The pre-election debate was organized by the American, British, Norwegian, Swedish, Irish, Danish, German, Finnish and Swiss Chambers of Commerce. The event was held with the support of King's College, the British School of Latvia.
Powered by:
< Back to Events
AmCham is a 'must-join' organization for any company of scope or international ambition.
Karlis Cerbulis, Senior Vice President of NCH Advisors, Inc.