Now is the time to innovate
May 27, 2021
from 16:00 till 17:30
Online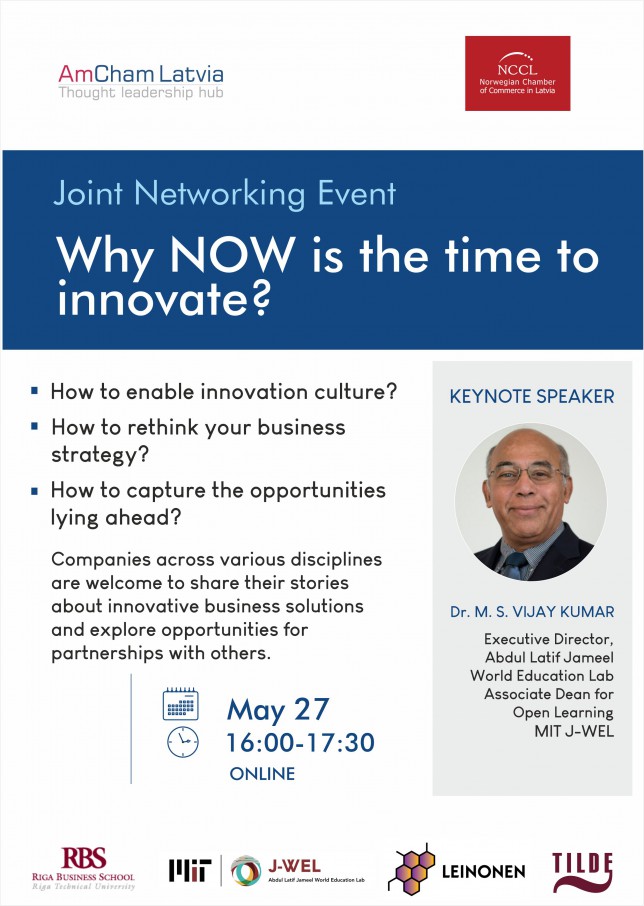 On May 27, members of the American and Norwegian Chambers of Commerce in Latvia had an opportunity to engage in the interactive workshop focusing on innovation and turning challenges into opportunities with an excellent guest speaker Prof. Vijay Kumar, Executive Director of J-WEL and Associate Dean for Open Learning at MIT. Members representing various industries were matched based on their topic of interest either in innovations related to human capital development, health, digital transition or green economy.
Short intro message of Claudio Rivera, PhD (Deputy Director of RTU Riga Business School) about the event:

Constant innovation has become a necessity to stay ahead of the times. We have been forced to rethink and restructure both our lives and business and, regardless of our industry, prioritizing innovation has become a key for business growth in the post-crisis word. Nowadays companies should think about how to enable innovation culture, how to rethink business strategy and capture the opportunities lying ahead.

Therefore we invited companies and organizations across various disciplines to engage in a conversation on the emerging challenges and innovative solutions for addressing them.
During this great networking event participants were matched based on the following topics of their interest:
· Human capital development: education, training, upskilling
· Health: health innovations, mental health and wellbeing
· Digital transition: technological innovations, business value chain and agility
· Green Economy and sustainability
Members had the chance to change virtual theme tables twice during the event, while also having a chance to engage in one-on-one conversations. Members from numerous industries joined this event: IT, Telecom, Healthcare, Consumer goods, Logistics, FMCG, Consulting, Education, Public safety, Entertainment, Services, Real estate, Finances and Insurance.
Keynote Speaker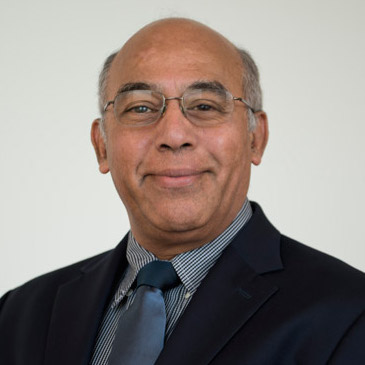 Prof. Vijay Kumar, MIT J-WEL introduced by Dr. Claudio Rivera, RTU Riga Business School
Dr. M. S. Vijay Kumar is Executive Director of J-WEL and Associate Dean for Open Learning at MIT. Vijay has been providing leadership for technology-enabled educational innovation at MIT for the past 22 years, previously as MIT's Senior Associate Dean of Undergraduate Education, Assistant Provost, and Director of Academic Computing.
Event Partners:
< Back to Events

AmCham works hard to accomplish its goals and is a voice in the business community that is heard.
Filips Klavins, Managing Partner at Ellex Klavins