Trauma Simulator wins Latvian-American Innovation Award
Mar 07, 2019
from 11:30 till 14:00
LUMIC, Kalpaka Bvld. 4, Rīga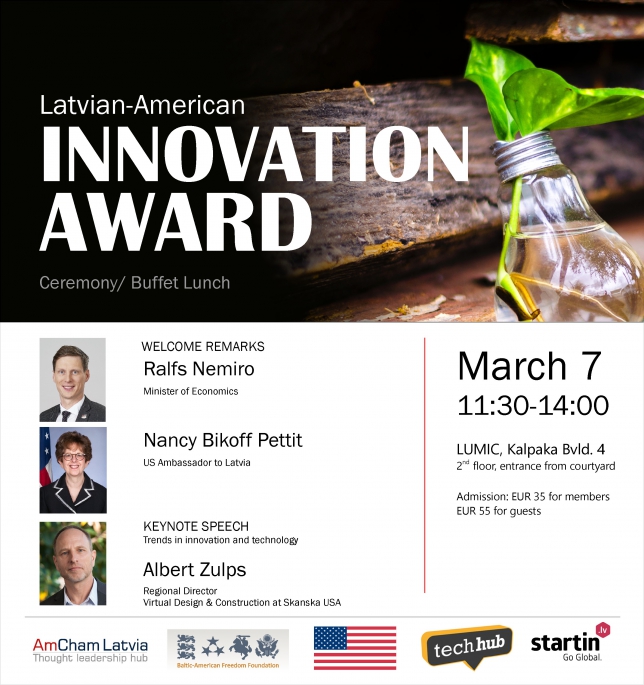 On March 7 during the Award ceremony of the Latvian-American Innovation Award at the University of Latvia and Microsoft Innovation Center, the winners were announced.
The jury, made up of experienced business people and professionals, selected the winner - Anatomy Next for the Trauma Simulator and the runner-up Functional structure of textile, containing metamaterial created by Dr.sc.ing. Inga Lasenko, Leader Researcher at RTU, Institute of Biomedical Engineering and Nanotechnologies. The winner received monetary prize of 10,000 Euro and the runner-up 5,000 Euro. The winners also received a custom-made award symbolizing creativity and innovation, and the Awards certificate from the U.S. Embassy in Latvia.
Anatomy Next has expanded the technology in medical training with their Trauma Simulator, a virtual reality training system that allows medical students to practice and improve their performance in emergency situations. More information: www.traumasimulator.com. Janis Kondrats, Project Manager of Exonicus/Anatomy Next said: "We have created Trauma Simulator with an aim to improve the learning process and to train emergency medical personnel."
Functional structure of textile reduces object's thermal signature for military applications. This newly developed textile material contains metamaterial layer, which masks electromagnetic radiation in the visible, infrared, and ultraviolet spectrum range making the camouflaged object invisible.
Asya for their mindful communication app Asya and Custom3D Tech for their innovation Virutal OP Hub received Honorable mentions by the U.S. Ambassador to Latvia.
Asya is an AI-powered app, created to help with the drop in attention span and social skills of people in the modern smartphone era. Asya's purpose is to become the Endomondo of verbal communication.
Virtual OP HUB by Custom 3D Tech enables Orthotists and Prosthetists to provide patients with high quality digitally manufactured bespoke orthotic and prosthetic devices, through decentralized manufacturing and collaboration platform.
Keynote speakers of the event were Ralfs Nemiro, Minister of Economics of Latvia, Nancy Bikoff Pettit, U.S. Ambassador to Latvia and Albert Zulps, Regional Director of Virtual Design, Innovation and Construction at Skanska USA who spoke on trends in innovation and technology.
The U.S. Ambassador to Latvia, Nancy Bikoff Pettit emphasized: "The Innovation Award symbolizes the entrepreneurial spirit between Latvia and the United States, as some of the brightest minds combine passion, talent, and creativity to turn ideas into business realities.The Latvian-American Innovation Award recognizes those companies and individuals that promote entrepreneurship and drive economic growth and development between the United States and Latvia.We received outstanding nominations for this year's award and all of them deserve special recognition.I want to express my gratitude to our close partners, the Baltic American Freedom Foundation, the American Chamber of Commerce in Latvia, TechHub Riga, and the Latvian Startup Association for their support of the Innovation Award and for recognizing the pioneering work of these companies."
The applicants were evaluated by the professional jury including Andris Bērziņš, Co-Founder of TechHub Riga; Tālis Juhna, Vice-Rector of RTU; Gunita Kuļikovska, CEO of Vividly; Egita Poļanska, Head of the Latvian Startup Association Startin.LV; Peter Ragauss, Board Member of BAFF; Michael K. Ritchie, Political & Economic Officer of the U.S. Embassy in Riga; Renāte Strazdiņa, Country Manager of Microsoft Baltics and Board Member of AmCham Latvia.Innovations were evaluated in accordance with the selection criteria such as innovativeness, impact, applicability, collaboration, project maturity and value creation. Several factors related to the clear Latvian-American link were also taken into account.
The Latvian-American Innovation Award is co-hosted by the Baltic American Freedom Foundation (BAFF), the American Chamber of Commerce in Latvia and the U.S. Embassy in Riga in close partnerhsip with TechHub Riga and the Latvian Startup Association Startin.LV.
ABOUT THE SPEAKER


Albert Zulps, AIA, LEED AP
Director of Innovation and VDC, Skanska USA Building
Albert Zulps is a Virtual Design and Construction (VDC) Regional Director for Skanska USA Building with over 25 years of experience in architecture, engineering, and technology. He is a Registered Architect in the state of New York, and holds a NYC Site Safety Manager License. At Skanska, Albert is responsible for overseeing and implementing  VDC and innovation in the Northeastern U.S. 
Born and raised in Canada, Albert earned a Master of Architecture from Dalhousie University in Nova Scotia, and a Diploma of Mechanical Engineering Technology from the British Columbia Institute of Technology, preceded by studies in Marine Engineering at the Royal Naval Engineering College in Plymouth, England. Prior to joining Skanska he served as a Marine Engineering Officer in the Royal Canadian Navy, and an architect with the internationally renowned firms Cook+Fox Architects in New York City (formerly Richard Cook & Associates), and Richard Henriquez Architects in Vancouver.  He has worked extensively overseas, including in Osaka Japan, Sint Maarten, and Singapore.  
Leveraging this diverse background, Albert joined Skanska in 2002 and became a founding member of Skanska's USA's VDC group. Over the past sixteen years he has helped to advance the widespread use of VDC tools and processes nationally, including, pioneering BIM-based RFID material tracking of precast concrete at MetLife Stadium and promoting the use of BIM to support prefabrication for Novartis at MIT, Nemours in Wilmington DE and various other projects. Albert was the chair of Skanska's International BIM Safety Task Group, which is responsible for developing protocols and training personnel on how to use BIM to make projects safer throughout the world. He currently chairs Skanska's national VDC Knowledge Network, a forum for sharing knowledge and lessons learned on innovation and VDC.  
Albert's academic outreach accomplishments includes teaching as an interim professor for Scenography (Stage Set Design) at Dalhousie University in Nova Scotia, Canada; and lecturing about Innovation and VDC/BIM at a number of prestigious universities throughout the Northeast, including the U.S. Coast Guard Academy, Wentworth Institute of Technology, Columbia University and PENN State.  He regularly presents at industry events, such as the  ASSE Annual Conferences, and ENR Future Tech where he presented on a BIM and Gaming panel.   Albert was also recognized for his work in helping develop the NYC Mechanics Institute BIM Pilot Program.  
Besides his passion for the architecture and construction industry, Albert is training for the 2019 Boston Marathon, and loves attending his 15 year old daughter Lola's orchestra concerts (she plays the violin) and track meets, and spending time on the slopes with her snowboarding.
Media coverage:
Leta photo gallery, March 7, 2019
Kursors, March 8, 2019 
The Baltic Times, March 8, 2019 
< Back to Events

We are very pleased to be part of AmCham and are looking forward to driving innovation forward in Latvia.
Mikko Fernström, General Manager, Biogen Latvia