HackMotion wins Latvian-American Innovation Award
May 29, 2020
from 16:00 till 17:00
Online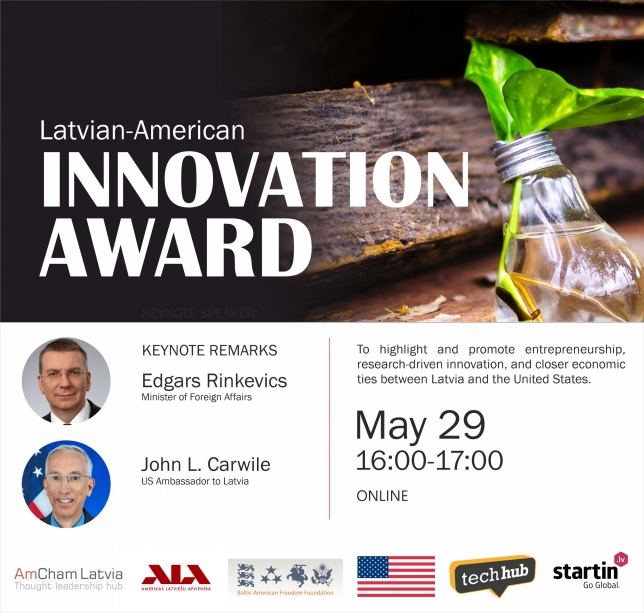 Today during the online Award ceremony of the Latvian-American Innovation Award, the winners were announced. The jury, made up of experienced business people and professionals, selected the winner - HackMotion for their innovative tool for learning new movements and the runner-up Winmill, a baseball training device. The winner received monetary prize of 10,000 Euro and the runner-up 5,000 Euro. The winners also received a custom-made award symbolizing creativity and innovation.

HackMotion is an innovative tool for learning new movements. It helps people learn physical activities faster and in a more engaging way in sports and rehabilitation medicine. The innovation adapts state-of-the-art motion sensing technology and software to build smart wearable sensor systems that can accurately measure detailed movements of the human body and provide visual and auditory feedback to the user. The first HackMotion product was an award-winning sensor system for wrist motion training in golf. Currently HackMotion is working on product improvement to tailor it for the golf consumer market in the U.S. By providing detailed motion tracking for masses, HackMotion provides much higher added value than conventional wearable devices. The ambition of HackMotion is to become one of the leading players in the growing wearable electronics market with a strategy focused around ease of use.
Winmill is a baseball training device developed by a Latvian based startup. A sports technology company with an emphasis on robotics and computer vision, Winmill aims at helping athletes to train better and more efficiently. Having developed a successful training robot for ice-hockey, Winmill is on the way to conquer the market of the most American of sports. Chicago Cubs Baseball Club is their strategic partner in product development providing regular testing and feedback.
Keynote speakers of the event were Edgars Rinkēvičs, Minister of Foreign Affairs of Latvia and John L. Carwile, U.S. Ambassador to Latvia and Peter Ragauss, Board Member of Baltic American Freedom Foundation.
The U.S. Ambassador to Latvia, John L. Carwile emphasized: "The Latvian-American Innovation Award is part of the continual improvement that characterizes our countries. The winners of this award symbolize what hardworking Americans and Latvians can accomplish when we combine our talents, our creativity, and our efforts."
The applicants were evaluated by the professional jury including Andris Bērziņš, Co-Founder of TechHub Riga; Tālis Juhna, Vice-Rector of RTU; Gunita Kuļikovska, CEO of Vividly; Diāna Lāce, Head of the Latvian Startup Association Startin.LV; Peter Ragauss, Board Member of BAFF; Michael K. Ritchie, Political & Economic Officer of the U.S. Embassy in Riga; Renāte Strazdiņa, Country Manager of Microsoft Baltics and Board Member of AmCham Latvia. Innovations were evaluated in accordance with the selection criteria such as innovativeness, impact, applicability, collaboration, project maturity and value creation. Several factors related to the clear Latvian-American link were also taken into account.
The Latvian-American Innovation Award was supported by American Latvian Association and co-hosted by BAFF, AmCham Latvia and the U.S. Embassy in Riga in close partnerhsip with TechHub Riga and the Latvian Startup Association Startin.LV. The ceremony was supported by the American Latvian Association.
Media coverage:
LSM.LV article May 30, 2020
Dienas Bizness, June 1, 2020
Partners:
< Back to Events

Today is the key moment to demonstrate the values we share with AmCham and support like-minded businesses
Jekaterina Novicka, Partner of Business Development, Orients Audit & Finance