Expat professionals ready to foster Latvia's economy
Jul 09, 2015 - Jul 10, 2015
from 10:00 till 18:00
Radisson Blu Hotel Latvija, Elizabetes 55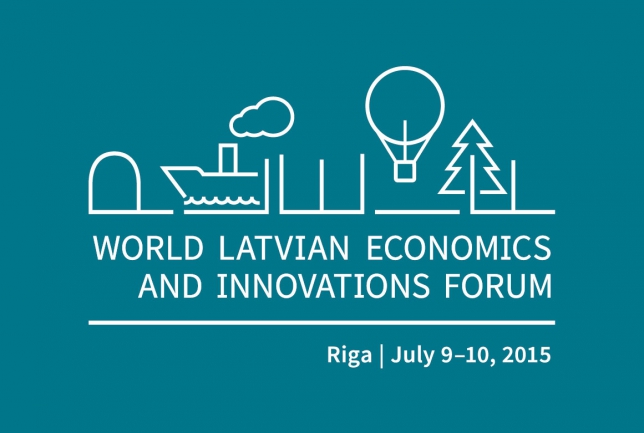 The 2nd World Latvian Economics and Innovations Forum (WLEIF 2015), which took place at the beginning of July in Riga brought together around 300 participants from 17 countries and was seen online by people from nearly 40 countries, starting from Latvia's neighboring countries to more distant regions, such as the United States of America, Canada, Australia, and China signed participated in WLEIF 2015. The focus of this year's forum was on new opportunities for Latvia's export diversification, attracting foreign investments, and strengthening entrepreneurial culture in Latvia.
The main goal of the 2nd World Latvian Economics and Innovations Forum (WLEIF) was to promote Latvian expatriates' involvement in strengthening Latvia's economic development through improved communication, transfer of knowledge, cooperation initiatives and investment opportunities. A separate Pre-Forum Meeting for international participants was held on July 9, 2015 featuring discussions between Latvian government officials and international participants on topics that are at the forefront of Latvia's economic agenda. WLEIF is the largest Forum of its kind in Latvia and it will build on the foundations of the first WLEIF that took place in July 2013 and that brought together more than 300 participants from 21 countries.
Prior to the forum on July 10 and pre-forum meeting for international visitors on July 9, a separate session for young professionals was organized on July 8. The aim of this Junior session was to introduce young adults with Latvian connections to entrepreneurship, employment and education opportunities and to promote their interest in temporary or permanent relocation to Latvia.

AmCham Latvia was among the partners of WLEIF 2015. Ingrīda Kariņa-Bērziņa, Vice President of AmCham Latvia moderated the WLEIF 2015 on July 10. In addition, the topic A of the session III on Juy 10 - Are we ready for CETA (Comprehensive Economic and Trade Agreement) and TTIP (Transatlantic Trade and Investment Partnership)? - Trade tools for doing business with North America was moderated by Arnis Kākulis, President and Chairman of the Board of AmCham Latvia and joined prominent speakers, such as Uldis Sīpols - Vice President of Sonoco, which is a multi-billion dollar global provider of consumer packaging, industrial products, and protective solutions (USA), Imants Purvs - Latvian Honorary Consul in Canada and Director of Lettonia Trading Inc. (Canada), Juris Bļodnieks - President of the Latvian American Shipping Line, and Matīss Kukainis - partner at Law Firm Spīgulis & Kukainis, Attorney at Law (Latvia).
Pleas note, that you may still sign up to become a part of the World Latvian Mentoring Program, whose aim is to promote transfer of knowledge between experienced professionals from abroad and young professionals in Latvia. For more information, please visit: http://www.ieguldilatvija.lv/world-latvian-mentoring-program/.
The 2nd WLEIF 2015 was organized by the World Federation of Free Latvians and the Ministry of Foreign Affairs of the Republic of Latvia. It is organized in cooperation with the Investment and Development Agency of Latvia, Ministry of Economics of the Republic of Latvia, the AmCham Latvia, the Latvian Chamber of Industry and Commerce, the Stockholm School of Economics in Riga, and the Latvian Institute. The forum was sponsored by translation agency Linearis, Baltic Technology Group, Darzins Legal, and Jānis un Aija Kukainis personally. Informative supporters include the leading Latvian national news agency LETA, news portal Delfi.lv, Latviesi.com, and other Latvian diaspora newspapers and portals.
For more information please visit: www.ieguldilatvija.lv. Pictures from the event are provided by WLEIF.
< Back to Events

I would highly recommend membership to other professionals looking to expand their business connections.
Gundars Ziemanis, Latvia branch Country Manager, Siemens Healthineers