Ways to enter the U.S. Market: tools and success stories
Oct 03, 2017
from 15:00 till 17:00
LCCI, Kr.Valdemara Street 35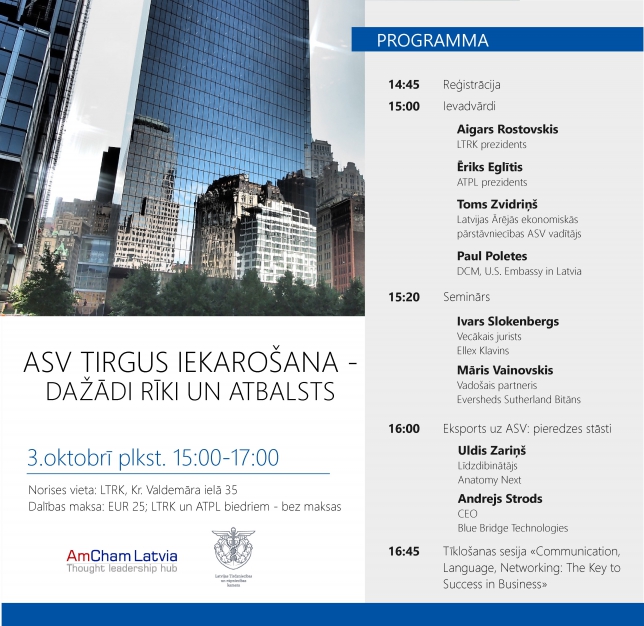 Amerikas Tirdzniecības palātas Latvijā (AmCham) un Latvijas Tirdzniecības un rūpniecības kameras (LTRK) rīkotais seminārs par ASV tirgu programmas Gateway to the USA ietvaros notika jau ceturto reizi šā gada 3.oktobrī LTRK telpās.
Pasākumā ar prezentāciju par Latvijas uzņēmēju iespējām ASV tirgū uzstājās Ivars Slokenbergs, uzņēmuma Ellex Kļaviņš vecākais jurists un Māris Vainovskis, Eversheds Sutherland Bitāns vadošais partneris. Dalībnieki guva ieskatu praktiskos ASV tirgus aspektos un iepazinās ar diviem Latvijas uzņēmumu veiksmes stāstiem ASV: Anatomy Next un Blue Bridge Technologies. Semināra noslēgumā Rigas Ekonomikas augstskolas lektore un TEDxRiga spīkeru trenere Vanda Dauksta dalījās ar runas un prezentācijas prasmju attīstības knifiem, tīklošanās nozīmi un prezentēja Riga Toastmasters sniegtās iespējas.
Šīs programmas semināru mērķis ir informēt uzņēmumus par aktuālo un noderīgo saistībā ar Latvijas un ASV tirgu. Semināros ar vērtīgu informāciju par ASV tirgu un pieredzi dalās ministriju un vēstniecību pārstāvji, kā arī eksperti un uzņēmēji, kas jau darbojas ASV tirgū.

Lai ņemtu dalību "Gateway to the USA" programmā, izmantotu tās sniegtās iespējas un tiktu savienoti ar programmas konsultantiem - uzņēmumam ir jābūt AmCham vai LTRK biedram un jāiesniedz rakstisks pieprasījums vienai no organizācijām. Lai pieteiktos lūdzam aizpildīt anketu, kura ir pieejama šeit: http://bit.ly/2q90rNi
Sīkāka informācija: kristaps.supe@chamber.lv; +371 6720 1109 vai lina.karklina@amcham.lv; +371 6721 2204.
AmCham Latvia in cooperation with LCCI organized the 4th Seminar on the U.S. Market on October 3 at LCCI, Kr.Valdemara 35. These seminars are a part of our Gateway to the USA program, launched in March last year.
Gateway to the USA is a joint business network platform aimed at developing and expanding connections between businesses in Latvia and business representatives in the U.S. The program is tailored to the needs of individual companies, members of AmCham and LCCI.

Previous Seminars:
May 10, 2017
November 29, 2016
Supported by: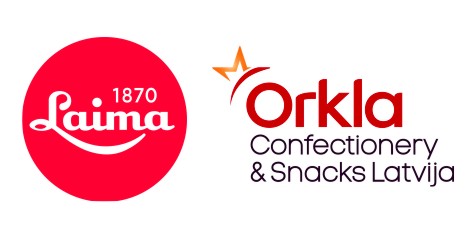 < Back to Events

Together with AmCham we can develop our networking not only in the local market with local companies, but also reach out to good partners far away from Latvia.
Ugis Grigorjevs, Head of Sales at Nordwoc