Ukraine aftermath
Mar 14, 2014
from 11:30 till 14:00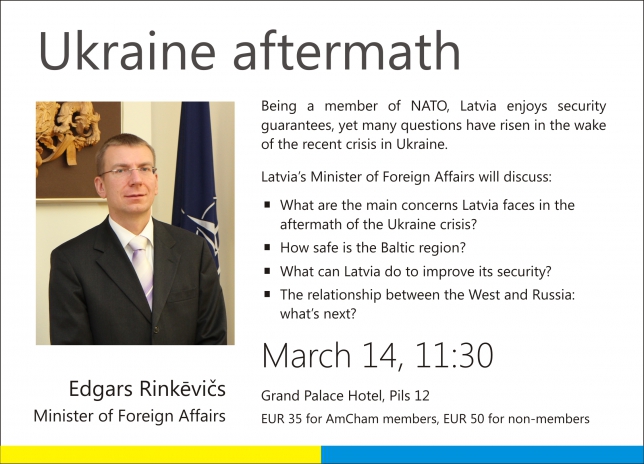 AmCham members, guests and representatives of the diplomatic community met with Edgars Rinkevics, Minister of Foreign Affairs to discuss the current developments in Ukraine and its possible aftermath.
Minister Rinkevics spoke on the current developments in Crimea as an unprecedented breach of law and order since World War II and as a direct threat to the security in the region. Given Latvia's historical background, the people of Latvia are very emotional about this situation although, having been a full-fledged member of NATO and the EU for over 10 years, Latvia has nothing to worry about. "We are as safe as we can imagine to be in this world," the Minister emphasized.
The Minister stated: "Despite the efforts of diplomacy, I believe that Crimea will declare itself part of Russian Federation. Under such scenario, a full scale arms embargo and financial restrictions against Russia are likely to be introduced."
Currently analyzed is the impact on Latvia's economy. More exposed are areas such as energy and transit, however, there is a growing anxiety in Russia about the possible impact of Western sanctions. The Minister stressed that sanctions won't do good for either sides, but it is the only way to influence the decision making process in Moscow.
< Back to Events
I look forward to promoting stronger U.S.-Latvia ties and working with AmCham members to ensure Latvia is a trusted destination for international business.
John Tully, Chairman of the Board of MikroTik