The future development of the State Revenue Service
Jan 12, 2017
from 11:30 till 14:00
Radisson Blu Hotel Latvija, Elizabetes 55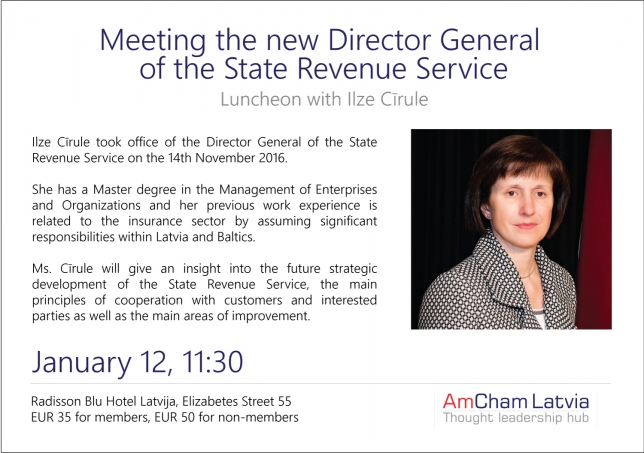 The first luncheon of 2017 took place on January 12, 11:30 at Radisson Blu Hotel Latvija.
The new Director General of the State Revenue Service Ilze Cīrule - gave an insight into the future strategic development of the State Revenue Service, the main principles of cooperation with customers and interested parties as well as the main areas of improvement.
At the Q&A session, our members and friends were interested in in SRS's image and customer service improvements, international practice and good example consideration, quality of employees and motivation mechanisms, as well as the planned structural reforms within the SRS.
Ms. Cirule welcomed the cooperation with social partners: "Co-operation with social partners such as the American Chamber of Commerce in Latvia, is essential for the new SRS Strategic Development Plan implementation. During the meetings with the business community, it is easier to crystallize the most important issues. It is a chance for me to have a direct dialogue with the business community and explain various aspects of the strategy and reform. As shown by today's meeting, the interest and active involvementof the business community by sharing recommendations is a valuable contribution to our shared success".
Ms. Ilze Cīrule took office of the Director General of the State Revenue Service on the 14th November 2016. Ms. Ilze Cīrule has a Master degree in the Management of Enterprises and Organizations. Ms. Ilzes Cīrule's previous work experience is related to the insurance sector by assuming significant responsibilities within Latvia and Baltics.
< Back to Events
AmCham is a 'must-join' organization for any company of scope or international ambition.
Karlis Cerbulis, Senior Vice President of NCH Advisors, Inc.