The way forward for Latvia
Sep 06, 2021
from 12:15 till 15:00
Radisson Blu Daugava Hotel, Kugu 24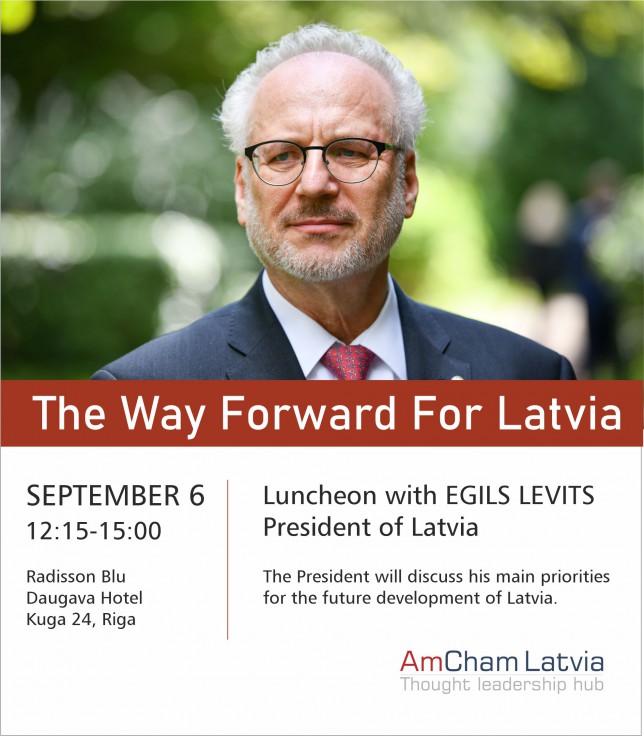 Members and guests were honored to join the September business luncheon with Egils Levits, President of Latvia at Radisson Blu Daugava Hotel. Members also had an opportunity to network prior to the business luncheon and meet each other in-person after the summer break.

During his speech, the President shared his main priorities for the way forward for Latvia and engaged in an open discussion about current issues affecting the business and investment climate. According to the President, education, science, technology and economic policies have not yet been intertwined in the most effective way; they have not been interlinked in a single, coherent chain where all parts work with the greatest possible return. Among other areas of importance, he mentioned education, digital skills and innovation that all require adequate commitment from the state.
The President informed members that Latvia will host the next Three Seas Initiative Summit and Business Forum in 2022. He emphasized that he sees the Summit as a productive platform to accelerate digital, energy and transport connectivity between the northern and southern parts of the EU.
"If I look at Latvia's and the U.S. bilateral economic relations, I see a positive trend with both trade and investment flows growing. We highly value U.S. direct investment in Latvia and I believe there is still considerable potential to explore," the President of Latvia said.
< Back to Events

AmCham and PwC share the same values and targets to achieve socially.
Zlata Elksnina-Zascirinska, Country Managing Partner at PricewaterhouseCoopers