Meet AmCham Event
Jun 08, 2017
from 18:00 till 21:00
Restaurant Kliversala, Mukusalas Street 3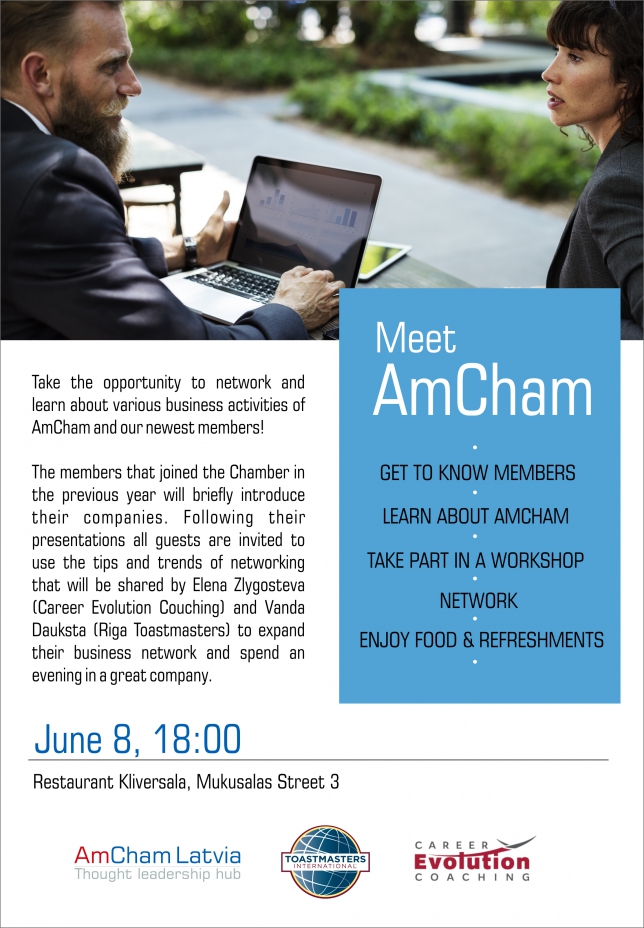 On June 8, nearly fifty AmCham members gathered at Restaurant Klīversala for our Meet AmCham event. The restaurant, which is located in the stunning National Library of Latvia, provided the ideal setting for presentations, table displays and interactive exercises.
The event, which was both an introduction of our newest members and a platform to gain a better understanding of networking, was a success. The evening began with opening remarks from AmCham President Eriks Eglitis and progressed to an informative presentation addressing AmCham's objectives. Members left Meet Amcham with a better understanding of the wide-reaching organization of which they are a fundamental facet.
Next, each new member was invited to present a short pitch underlining the key features of their organization, their individual roles in the latter and their ambitions as members of AmCham. The pitches highlighted the diversity of thought and experiences brought to the Chamber by its members. The 2016/2017 new members of AmCham who presented themselves at the event include: Corporate Contributing Member Apply Intelligent Technologies, Corporate Members airBaltic, Gateway & Partners, If P&C Insurance AS, Orangetime Event, Rocket Bean Roastery, Small Business Members Baltic 3D.eu and LSH Express Logistics, Non-Profit Members Go Beyond and Zinoo, and Individual Members Dainis Butners and Gints Zalitis.
Following insightful presentations by speakers Vanda Dauksta (Riga Toastmasters) and Elena Zlygosteva (Career Evolution Coaching), members practiced their newly fine-tuned networking skills and got to know one another a little better in the process. Vanda Dauksta and Elena Zlygosteva shared strategies for facilitating natural and interesting communication. Participants had the opportunity to further get to know AmCham's new members following the interactive workshops. New members displayed everything from pamphlets to coffee beans to flasks and beakers at their tables.
June's Meet AmCham event, filled with new insights and fun, was a success. We look forward to continuing the expansion of our network and our understanding at the next Meet AmCham event!
< Back to Events

We are very pleased to be part of AmCham and are looking forward to driving innovation forward in Latvia.
Mikko Fernström, General Manager, Biogen Latvia