Network smart to grow your business
Mar 26, 2015
from 18:30 till 21:00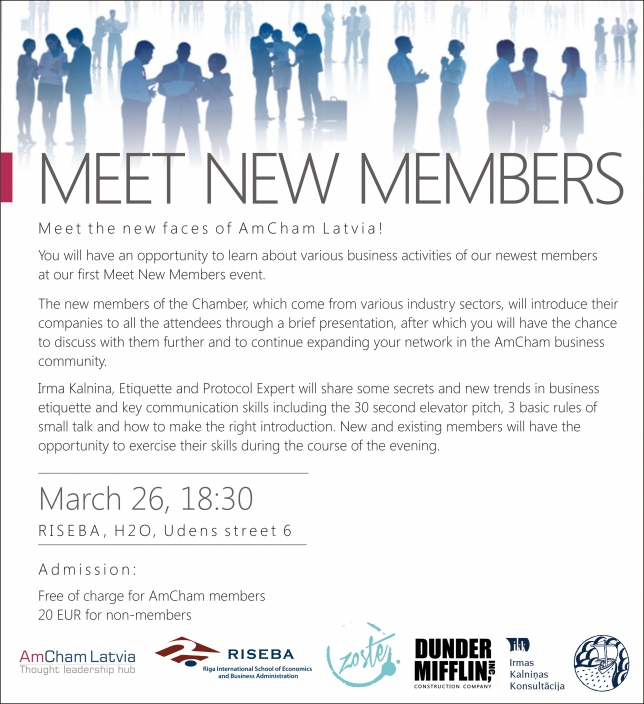 Last week AmCham together with RISEBA hosted its first ever Meet New Members event. This was a unique opportunity for the new members to present themselves to the membership community. In addition, it served as a good network exchange among members.

12 new members who had joined AmCham during the course of the past year representing various industries introduced themselves with a short presentation. The event gathered more than 65 members and guests.

Irma Kalniņa, Etiquette and Protocol Expert shared the secrets of business etiquette and key communication skills of successful verbal networking. Guests received valuable tips from how to make a concise self-presentation to how to conclude a successful small talk. Networking skills were then used and exercised in a special assignment.

What an amazing time was had by all! We got to know our new members' businesses better as well as put our newly learned networking skills into practice. We had a chance to join a tour around RISEBA to learn about their audiovisual media and architecture programs.

Excellent food and wine was provided by Chef Kārlis Celms and his new restaurant Zoste.

Thank you to our supporters Dunder Mifflin, restaurant Zoste, Irmas Kalniņas Konsultācija and to RISEBA for making Meet New Members event possible!

Showcasing members were: Albert Hotel, BN Golf International, Career Evolution Coaching, Data Security Solutions, DEAC, Dunder Mifflin, Eversheds Bitāns, RISEBA, RixTrans, Giraffe360, Zoste, Gundars Aboliņš and Jānis Bordāns.
< Back to Events
I look forward to promoting stronger U.S.-Latvia ties and working with AmCham members to ensure Latvia is a trusted destination for international business.
John Tully, Chairman of the Board of MikroTik