Growth prospects of airBaltic
Feb 05, 2016
from 12:30 till 15:00
Radisson Blu Hotel Latvija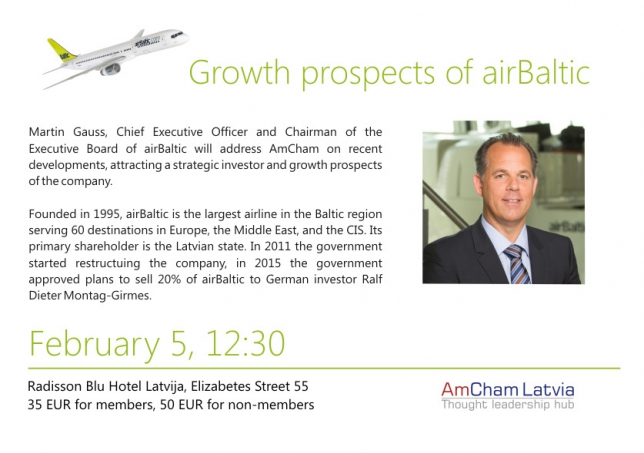 Martin Gauss, Chief Executive Officer and Chairman of the Executive Board of airBaltic spoke at the AmCham February luncheon on recent developments in the company, including the signing of the investment agreement just one day ago.
According to Mr. Gauss, airBaltic is a success story despite the fact the media often tends to distort that view. The Baltic market is not big enough for the company, therefore it needs to grow and expand.
Mr. Gauss offered a company vision for year 2021 when it plans to gain more passengers, improve connectivity and offer more than 60 destinations from Riga. He also gave an insight into topics such as the introduction of the new fleet, the financial status of the company and the prospects for attracting a strategic investor.
Financially 2015 has been the most profitable year for airBaltic so far. In 2012 a new reshape strategy was introduced to improve the financial position of then-troubled company, which started to pay off as airBaltic returned to profitability in 2013.
Founded in 1995, airBaltic is the largest airline in the Baltic region serving over 50 destinations in Europe, the Middle East, and the CIS. Its primary shareholder is the Latvian state. In 2011 the government started restructuring the company, in 2015 it approved German investor Montag-Girmes the airBaltic investor and sold up 20% stake stirring up a society-wide debate.
< Back to Events

AmCham is based on values and behaviors that enable its members to fulfill a common purpose - a sustainable and transparent business environment, and we are truly proud to be a part of this growing community.
Edgars Skvariks, Corporate Public Affairs Manager at Bayer