A sparkling new production of Die Fledermaus
Dec 10, 2015
from 18:00 till 22:00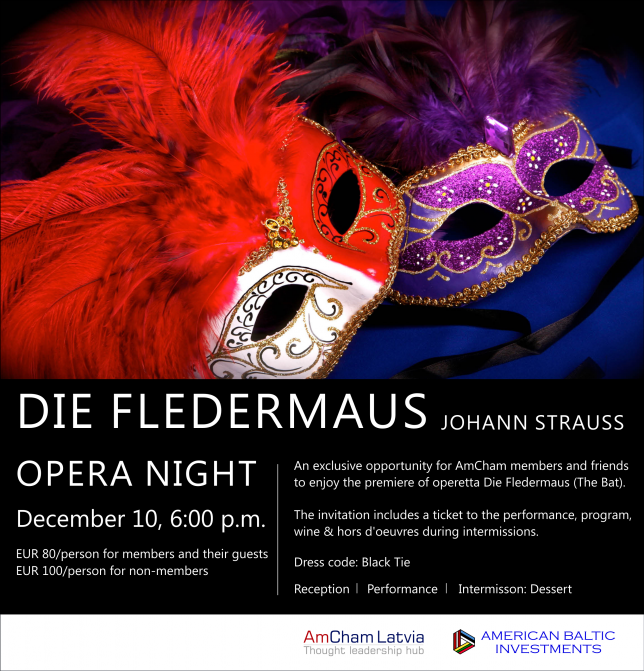 On December 10, AmCham members and partners gathered in Latvian National Opera and Ballet to enjoy the premiere of Johann Strauss' operetta "Die Fledermaus" (The Bat). During the reception and intermissions guests had the opportunity to enjoy refreshments, food and dessert in a company of friends and colleagues.
The next Opera Night will take place in the coming year.
About the Operetta

"Die Fledermaus" (The Bat) is Johann Strauss' most popular operetta. It is a story about a luxurious and elating world ruled by luster, joy, flirt, intrigues and surprises.

At a ball, organized by Count Orlofsky, a charming stranger captivates wealthy Gabriel von Eisenstein who does not notice that behind the mask hides his own wife Rosalinde. But the unlucky singer Alfred, an admirer of Rosalinde, is meanwhile sentenced to prison in Eisenstein's place…

The new staging of the operetta will be performed in German and spoken in Latvian. Director Edmunds Freibergs explains: "The operetta needs a special technique, elegance, wit, and virtuosity. I produced this performance as a colorful, modern cascade, with a slight irony about the so-called "toffs".
Please note that registration reqyired and binding until December 1.
All uncanceled registrations charged in full amount.
< Back to Events

AmCham is an invaluable resource that keeps us up to date with business issues and opportunities.
Mantautas Paskevicius, Country Manager of Strategic Staffing Solutions International