A night at the Opera - Premiere of Faust
Sep 30, 2016
from 18:10 till 22:00
Latvian National Opera and Ballet, Aspazijas bulv. 3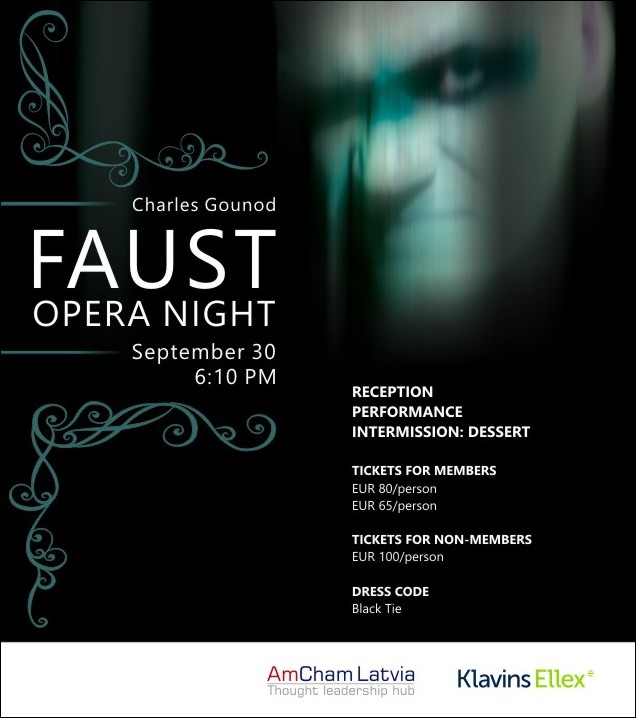 More than 70 members with their guests spent an excellent opening night of the new production "Faust" at the Latvian National Opera and Ballet on September 30. This black tie event was an exclusive opportunity for AmCham members and friends with a reception, dessert and refreshments that were served during intermissions.

Thank you to AmCham Premium Partner Klavins Ellex for sponsoring this exclusive event!
ABOUT OPERA
Doctor Faust is tormented by the feeling he's wasted his life. The mysterious Mephistopheles promises to make all of the aging scientist's wishes come true - in exchange for Faust's soul . . . Charles Gounod's opera, which was inspired by Johann Wolfgang von Goethe's famous tragedy, saw its world premier in Paris in 1859. Today, director Aik Karapetian's has put together a new production in the late-gothic aesthetic, also employing silent movie techniques in the style of German expressionism. "But that doesn't mean that the production will be hopelessly grave", Karapetian says of his vision.

Click here to learn more about the performance.
< Back to Events
Being part of AmCham is a great way to maintain business contacts with entrepreneurs and professionals.
Normunds Bergs, Chief Executive Officer, SAF Tehnika