A night at the Opera: Premiere of Jenufa
Feb 23
from 17:30 till 21:00
Latvian National Opera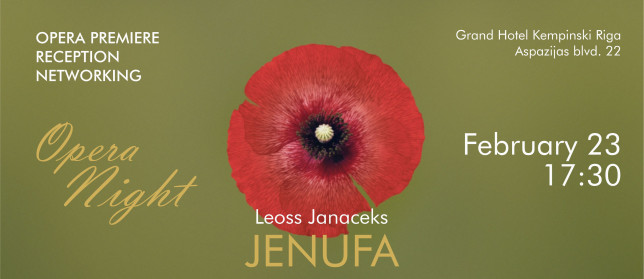 Guests and members enjoyed the Exclusive Opera Night on February 23, which featured the premiere of the opera "Jenufa" by Czech composer Leos Janacek, directed by Alvis Hermanis. A kick-off reception preceded the performance at the Grand Hotel Kempinski Riga. It was a great evening of music, novelty and great company. Opera Night has become one of AmCham's key highlight events since 2013.
About
This beautiful story of honor and dishonor, of love, crime, and forgiveness, reveals the terrible events in a Moravian village. Jenufa is expecting a child from the irresponsible and drink-loving Steva. Steva's brother Laca also loves Jenufa, but, in a fit of jealousy, with his affections not reciprocated, he mutilates Jenufa 's face with a knife so that his brother would never look at it again. When Jenufa confesses to the Kostelnicka the relationship she has had with Steva, the stepmother does everything to hide the disgrace from the neighbors. In an effort to encourage Laca to marry Jenufa, the Kostelnicka secretly drowns Jenufa 's newborn baby. Is it possible to forgive the unforgivable?
Directed by Alvis Hermanis, the production premiered in 2014 at the Opera La Monnaie in Brussels. The production was made in collaboration with Teatro Communale di Bologna. Alvis Hermanis's masterpiece by Leos Janacek highlights the ethnographic splendor of the culture of the Central European region without losing the dramatic tension so characteristic of the drama of Jenufa 's life in the play imbued with Moravian colour.
Jenufa, based on Gabriela Preisova's drama Her Stepdaughter, is Czech composer Leos Janacek's most famous opera. First performed in Brno in 1904, this will be the third production of Jenufa at the Latvian National Opera.
< Back to Events

AmCham represents the interests of its members, making membership a valuable asset.
Matiss Kukainis, Partner at Spigulis & Kukainis