Premiere of L'INCANTESIMO. PAGLIACCI
Feb 21, 2019
from 17:30 till 21:00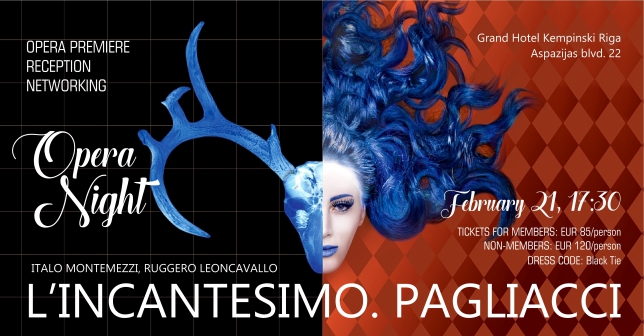 A gathering of more 80 AmCham members along with their guests enjoyed a wonderful opening night of the production of one-act opera "L'INCANTESIMO" by Italo Montemezzi and "PAGLIACCI" by Ruggero Leoncavallo at the Latvian National Opera and Ballet on February 21. Along with the performance, the evening consisted of refreshments, snacks, and networking at Grand Hotel Kempinski Riga, 8th floor.
Our Opera Night has become a traditional and exclusive black tie event for AmCham members and their guests with a reception and opening night at the Latvian National Opera. 
ABOUT
The creative team behind the Latvian National Opera's internationally acclaimed staging of Faust highlights the little-known one-act opera L'incantesimo by Italo Montemezzi and playwright Sem Benelli. This opera has most likely only been staged in Europe once, over 60 years ago in the Verona Arena in Italy. In this new production's concept L'incantesimo, one of the last works of Italian melodic opera, interplays with Pagliacci, which is another excellent example of the verismo style of opera composed by Ruggero Leoncavallo.

"Disregarding that both works are written in a verismo style, and that the story is virtually the same – a love triangle, jealousy and treachery – they are written in different genres. The opera L'incantesimo is a lyrical medieval fairytale where romance alternates with fantasies and allegories, whereas Pagliacci is realistic. To bring out both styles our creative team will create an opportunity for viewers to take a journey not only through different time periods, but also different worlds," explains the director of the new production, Aik Karapetian.
< Back to Events
I look forward to promoting stronger U.S.-Latvia ties and working with AmCham members to ensure Latvia is a trusted destination for international business.
John Tully, Chairman of the Board of MikroTik