Pan-Baltic Forum: Combating COVID-19 & Business Recovery
May 14, 2021
from 12:00 till 17:00
Online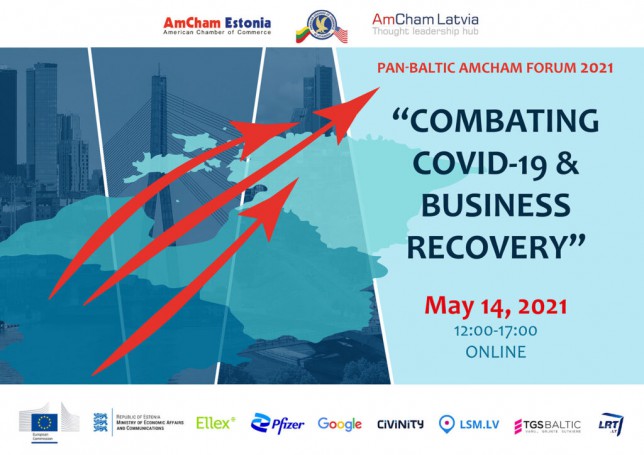 On May 14, the American Chambers of Commerce in Latvia, Estonia and Lithuania (Baltic AmChams) held the First Pan-Baltic AmCham Forum 2021 on combating COVID-19 and business recovery with top government leaders representing all three Baltic countries, including Ministers of Health and Economy as well as business leaders. All speakers admitted that it is crucial to combine resources and expertise across the Baltics and partner closer between the public and private sector in order to combat COVID-19 and regain ecomomic growth.
The event brought together the top leaders from the governments of three Baltic countries, local and international business experts from industries including IT, Travel, Healthcare, and the Financial sector to discuss collaboration between Baltic region governments, authorities, and entrepreneurs in combating the COVID-19 crisis and support the recovery of the economy by sharing best practices, plans, and strategies.
Joining as keynote speakers were Paolo Gentiloni, Commissioner for Economy of European Commission and Ricardo Pelaez, Commercial Counselor at USEU.
The forum consisted of three panel discussions:
HEALTHCARE STRATEGY: Sharing Best Practices and Strategic Plans;
ECONOMIC RECOVERY STRATEGY;
BUSINESS PANEL: How Can Private Sector Contribute to the Economic Recovery?
The panel on Healthcare Strategy, moderated by Marjo Nakki, Journalist of Finnish broadcasting company YLE, brought together the Ministers of Health from all three Baltic countries: Arunas Dulkys, Minister of Health of Lithuania, Tanel Kiik, Minister of Health and Labor of Estonia and Daniels Pavluts, Minister of Health of Latvia. The Ministers of Health stressed the importance to increase vaccination levels as well as to introduce a digital green certificate and raise awareness about global virus spread.
Daniels Pavluts, Minister of Health of Latvia said: "Measures themselves don't stop the virus; society does by abstaining from close contacts. Successful strategy to overcome the pandemic is by strictly following scientific data and expert advice. Cooperation and coordination on Baltic level is very helpful to achieve better results. By increasing vaccination rate we will be able to lift restrictions gradually however it is crucial to deal with the post-COVID world. To build a revaccination strategy as well as work on resilience of our health system at all levels, digitalization and health care human capital."
The second panel devoted to the Economic Recovery Strategy included Andres Sutt, Minister of Entrepreneurship and Information Technology of Estonia and Ausrine Armonaite, Minister of Economy and Innovation of Lithuania. According to the Ministers, COVID-19 has emphasized the needed transition in various industries. Ministers agreed about the importance of the Recovery and Resilience Facility in the economic recovery that will allow to invest in the green innovation, digitalization and reshaping of business models.
The business panel was moderated by Ruta Armone, Associate Partner of Ellex Valiunas and featured business leaders Martin Gauss, CEO of airBaltic, Marta Poslad, Head of Government Affairs and Public Policy in the CEE region, Google and Andrijus Nacajus, Head of Corporate banking in the Baltics, Luminor and Boris Khodanovich, Director of Baltic Cluster, Pfizer. Business panel participants agreed that public-private partnerships is a must and businesses alone cannot fully recover from this crisis. They admitted that overall macroeconomic picture in the Baltics is rather positive as there are number of sectors that have shown very good results, especially, profitability wise.
Martin Gauss, CEO of airBaltic said: "airBaltic is strategically important for the recovery of the economy, with a clear business development plan based on the growth in the Baltic States. We see that the market is slowly recovering, as the vaccine rates are improving all over Europe."
Boris Khodanovich, Director of Baltic Cluster, Pfizer said: "From the earliest days, we recognized that no one company could combat this virus successfully alone - that it would take the combined resources and expertise of us all to bring this public health crisis to an end. Our manufacturing network continues to scale to ensure more doses reach more people more quickly. In Europe, our network has grown to include more manufacturing partners. As of May 3, we have shipped 430 million doses of the Pfizer-BioNTech COVID-19 Vaccine worldwide – including 126 million doses to the European Union and more than one million in Baltics – and our shipment accuracy is 99.9%.
Click here to view the EVENT PROGRAM

Click here to view the LIST OF SPEAKERS

Event partners and supporters:
Pfizer, Google, airBaltic, European Commission, Ellex Klavins, Ellex Valiunas, Civinity, LSM.LV, TGS Baltic, LRT.LT
< Back to Events

AmCham works hard to accomplish its goals and is a voice in the business community that is heard.
Filips Klavins, Managing Partner at Ellex Klavins