The First Pan-Baltic Meeting of AmChams
May 31, 2016 - Jun 01, 2016
from 09:00 till 21:00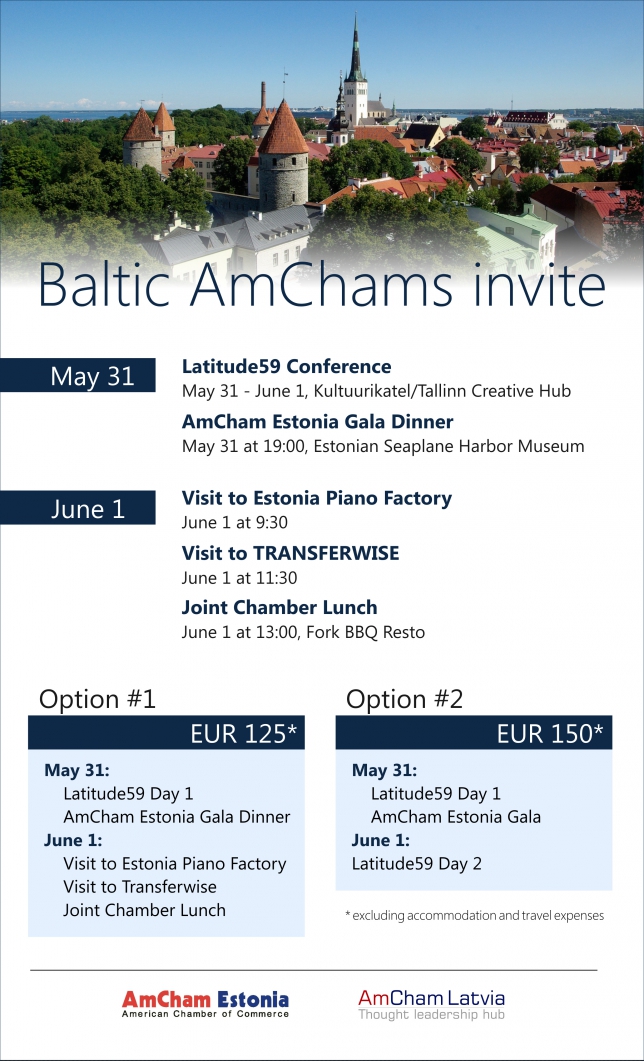 On May 31 through June 1 AmCham Latvia delegation joined the 1st AmChams Pan-Baltic meeting in Tallinn, Estonia, initiated by the three Baltic AmChams.
On the first day of the two day program, the 23 participants from AmCham Latvia had a unique opportunity to visit Latitude59 technology conference as well as to join AmCham Estonia and its members, invited guests, partners and VIP guests from Latitude59 for the Annual AmCham Spring Gala.
On the second day, all delegations visited Estonia Piano Factory to see and feel the passion of creating these amazing and royal musical instruments. Indrek Laul, the owner of the factory, gave us a behind-the-scenes tour of the place and explained the hard and extremely accurate work that has to be done, to create one grand piano. At the end of the tour, our delegations had the pleasure of hearing Indrek, himself, playing his piano.
Second company visit was to the innovative offices of TransferWise Ltd. Our delegations were greeted by Wade Stokes, the Head of Operations of the company. Wade told about the history of the company and also explained why TransferWise is as successful as it is. Wade and his colleagues gave a unique tour around the offices and the delegations were blown away by the creative and innovative nature of TransferWise office, staff and work.
After the exciting company visits, the delegations gathered in BBQ Resto Fork for a Baltic AmChams networking lunch. We would like to thank AmChams Estonia for hosting this successful and fruitful event.
AmCham Latvia team and our members are looking forward to close Baltic cooperation in the future by organizing joint events, sharing expertise and experience to add value to our organizations.
< Back to Events
AmCham is a 'must-join' organization for any company of scope or international ambition.
Karlis Cerbulis, Senior Vice President of NCH Advisors, Inc.