Connect with AmCham: Post-election scene
Oct 20, 2022
from 13:00 till 14:00
Online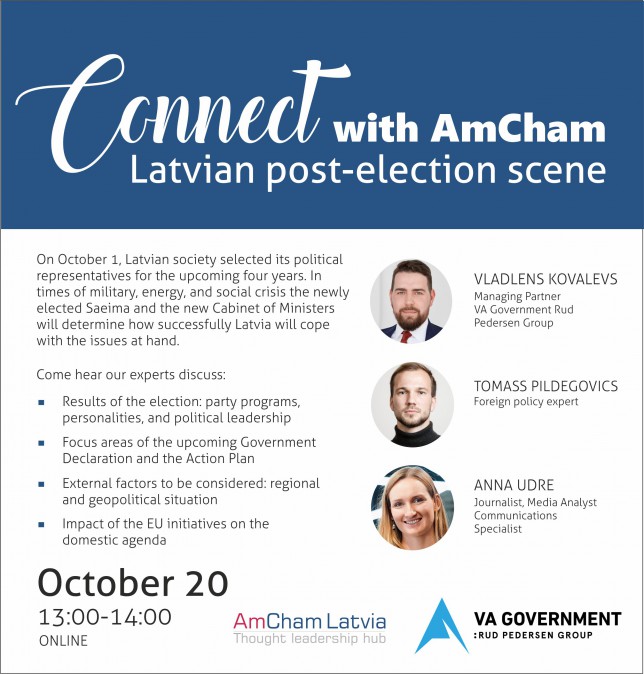 On October 20, around 30 members and guests joined our webinar in Connect with AmCham series this time devoted to the Latvian post-election scene to explore the implications of the 14th Saeima election.
Key topics covered in the webinar are as follows:
Results of the election: party programs, personalities, and political leadership
Focus areas of the upcoming Government Declaration and the Action Plan
External factors to be considered: regional and geopolitical situation
Impact of the EU initiatives on the domestic agenda
The live discussion on the implications of the 14th Saeima election was was joined by the following experts:
Vladlens Kovaļevs, Managing Partner, VA Government Rud Pedersen Group
Tomass Pildegovičs, Foreign policy expert
Anna Ūdre, Journalist, Media Analyst and Communications Specialist
About speakers:

Vladlens Kovaļevs is a Managing Partner at VA Government, a government relations and public affairs firm. As a partner at VA Government, Vladlens provides counsel to his clients on political, regulatory, and public issues connected to their respective advocacy efforts. Prior to founding VA Government, he was awarded the Baltic-American Freedom Foundation scholarship and was stationed at a government relations firm Cassidy & Associates in Washington, D.C. Vladlens has been involved in the assistance of multiple businesses in the tech, financial, FMCG, pharma, and defense sectors. His specializations include government relations and campaign management, as well as international communications. Vladlens holds a BSc degree in Economics and Business from the Stockholm School of Economics in Riga and has completed Public Affairs and Advocacy Institute at American University in Washington, D.C. Vladlens is a Co-Founder of a non-profit Global Shapers Riga by the World Economic Forum, currently, pro bono advising one of its spin-off social projects #Neklusē.

Tomass Pildegovičs is a Senior Expert at the NATO Strategic Communications Centre of Excellence. He has also been named a NATO 2030 Global Fellow. In his previous role, he served as a Policy Assistant in the European Parliament, advising on issues related to foreign interference in democratic processes, hybrid threats, and EU-Russia relations. Pildegovičs was selected as the 2022 Recipient of the European Union Studies Association Haas Fund Fellowship, as well as a 2021 GLOBSEC Young Leader in Security and Defence. He is currently a PhD candidate at the University of Cambridge, where he also completed his MPhil in Politics and International Relations with Distinction in 2019. He also holds a BA in International Relations with First Class Honours (2018) from the Department of War Studies, King's College London.
Anna Ūdre is a journalist/media analyst/communications specialist. She's worked for various local and international media, mainly covering international politics and security policy. She was the foreign news editor at Latvian Television for two and a half years before leaving TV earlier this year. She's also provided intelligence about security-related issues and uncovered disinformation cases in the Baltics for CEPA. Currently, she's working as a communications specialist for a private company and learning more about the private sector while making occasional reports for Latvian Television. She also works as a fixer for international journalists and researchers coming to Latvia.
< Back to Events

Today is the key moment to demonstrate the values we share with AmCham and support like-minded businesses
Jekaterina Novicka, Partner of Business Development, Orients Audit & Finance