Pre-election debate explores vision for Latvia's future
Sep 12
from 10:00 till 12:00
AC Hotel by Marriott Riga, Dzirnavu 33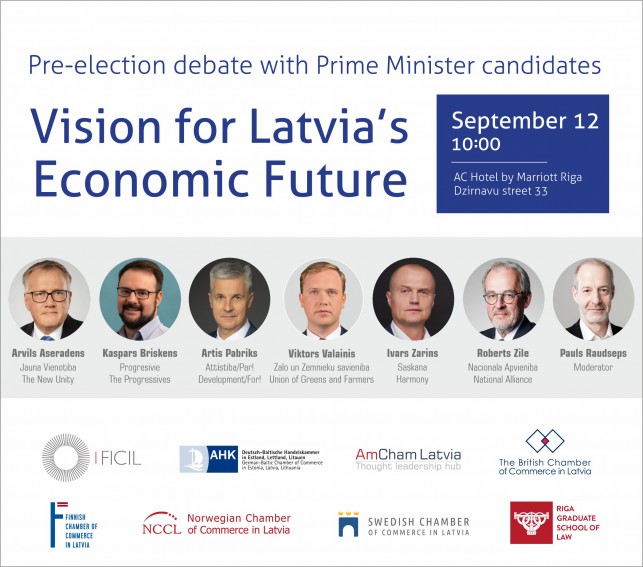 On September 12, AmCham together with the Foreign Investors's Council in Latvia (FICIL) and other leading foreign Chambers in Latvia held a pre-election debate with prime ministerial candidates and leaders of the leading political parties focusing on the critical issues for the development of Latvia's national economy and the attraction and retention of foreign investments such as increasing competitiveness and strengthening the economy under the current geopolitical circumstances.
You are welcome to revisit the event below:
Debate was joined by the following Prime Minister candidates and party delegated representatives from the leading political parties according to the latest polls of SKDS in July:
Arvils Aseradens, The New Unity
Kaspars Briskens, The Progressives
Artis Pabriks, Development/For!
Viktors Valainis, Union of Greens and Farmers
Ivars Zarins, Harmony
Roberts Zile, National Alliance
The debate was moderated by journalist Pauls Raudseps.

The key topic of the debate explored the economic security of Latvia, considering the following key pillars:
• Strengthening energy diversification, transition to low carbon resources
• The development of human capital considering demographic change
• Ensuring a level playing field and fair competition

The debate provided a unique platform for the international business community to directly engage in a discussion with the parties likely to lead the economic and social development of Latvia for the next four years.
Media coverage:
TV3, September 12, 2022
Leta, September 12, 2022
< Back to Events

AmCham is based on values and behaviors that enable its members to fulfill a common purpose - a sustainable and transparent business environment, and we are truly proud to be a part of this growing community.
Edgars Skvariks, Corporate Public Affairs Manager at Bayer