Return migration as a solution to labor force shortages
May 08, 2019
from 17:00 till 18:30
SSE Riga, Soros Auditorium, Strelnieku 4A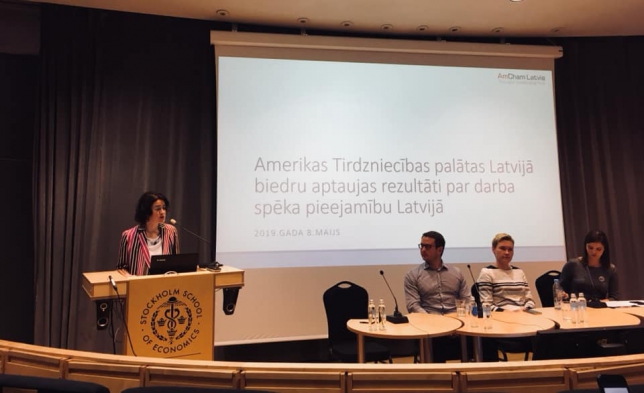 Event: Panel discussion "Return migration as a solution to availability of labor force in Latvia"
Date: May 8, 2019, arrival from 4:30PM, start at 5PM 
Venue: SSE Riga, Soros Auditorium, Strelnieku 4A
Organizer: Association "Ar pasaules pieredzi Latvijā"/"With world experience in Latvia" 
Video of the event is available here: https://www.facebook.com/LSMportals/videos/2213004652148357/
Panelists joining the discussion were as follows: 
• Renāte Strazdiņa, member of the board of AmCham Latvia, Country Manager Baltics - Microsoft
• Jānis Kreilis, co-founder and manager of YourMove
• Dace Zalite, Representative of the Ministry of Economy
Main issues addressed:

1. Lack of labour force is a growing concert to businesses in Latvia, across all skill levels and industries. Politicians have continuously mentioned return migration as the main solution to this challenge. But can return migration really be seen as the main solution and ensure the availability of labour force?
2. After Diaspora Law entered into force on 1 January 2019, there is an increased need to define a national, long-term strategy and return migration policy, to be achieved in close cooperation with the private sector and foreign investors in Latvia. How to ensure the development of a sustainable return migration policy and the implementation of targeted return migration support measures to attract labour force to both public and private sectors?
3. What are the main preconditions and challenges for practical and emotional inclusion of return migrants in the labour market and society of Latvia? What are some of the recruitment strategies available for public and private sectors to attract return migrants?

The discussion was in Latvian.

The discussion was followed by an informal reception.
< Back to Events

AmCham and PwC share the same values and targets to achieve socially.
Zlata Elksnina-Zascirinska, Country Managing Partner at PricewaterhouseCoopers