Employer branding to attract and retain top talent
Jun 29, 2016
from 16:00 till 18:30
Microsoft Latvia, Zala street 1, room Libra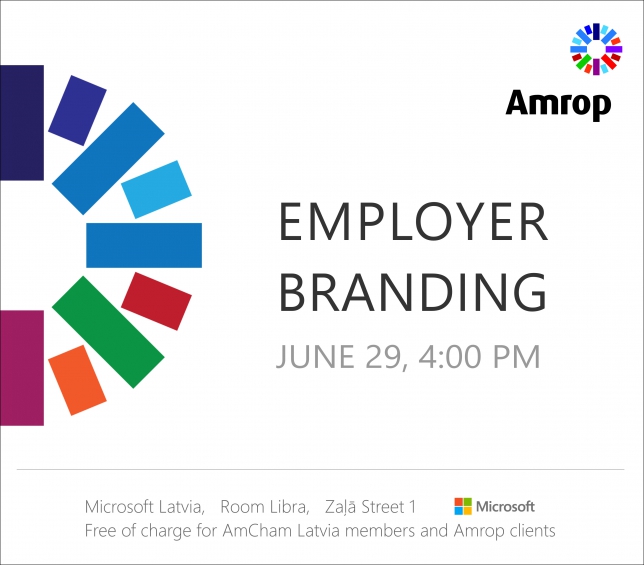 AmCham member Amrop was organizing seminar on June 29 at 16:00at Microsoft Latvia. Around 30 people gathered to learn more about the importance of employment branding.
The competition between different countries and industries is increasing. War for talent due to the demographic situation is becoming increasingly dramatic: five years from now the age group of 20-25 year-olds will be two times smaller than today. It is harder to find employees, more difficult to keep them; and employer branding plays an important role in attracting and retaining top talent.
In 2014, Amrop carried out an extensive study about the employer brand image of 300 largest companies in the Baltic States. In the course of conducting the Baltic Employer Branding Index study more than 7000 employees were surveyed, including over 800 CEOs, Board Members and more than 2000 senior specialists. The purpose of the study was to measure key aspects of 'employer brand' image among potential recruits and to provide reliable data for managerial decisions in developing a more consistent employer brand image in the recruitment market. Similar study will be conducted in 2016.
For the first time, 300 largest companies in the Baltic States have been presented the opportunity to quantitatively determine the position of the company as an employer from the potential employees' point of view, as well as to obtain comprehensive qualitative data that characterize the image of the company and its strengths and weaknesses compared to other companies. The study divided labour market segments in defined sub-groups with the respect to job functions, levels, sectors, demographic criteria, states and other indicators.
To view the presentation of Aiga Ārste-Avotiņa
< Back to Events
I look forward to promoting stronger U.S.-Latvia ties and working with AmCham members to ensure Latvia is a trusted destination for international business.
John Tully, Chairman of the Board of MikroTik