Spotlight Latvia takes place in L.A.
Apr 01, 2022
from 08:00 till 19:30
Pacific Time Zome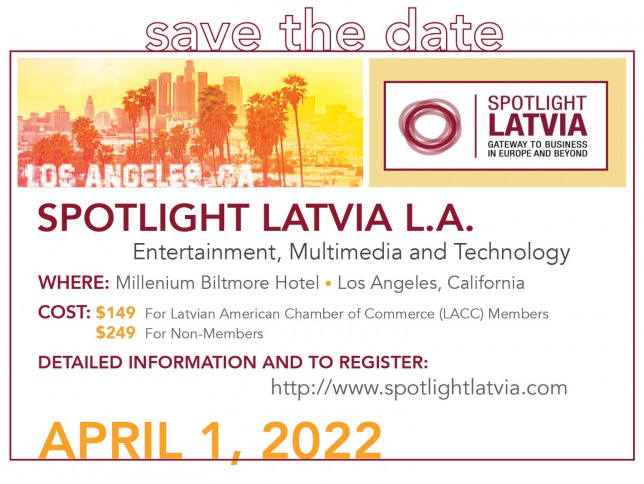 The business conference Spotlight Latvia on April 1 in Los Angeles gathered many companies from Latvia including our members SAF Tehnika, Slokenbergs PLLC and Vigo Health, more than 150 participants, officials from Latvia and the United States. This year's conference agenda included all topics related to entertainment, multimedia and technology and numerous panel discussions on Latvian technology and startups, virtual reality and gaming projects, opportunities and assistance for filmmaking as well as production and postproduction,
The Spotlight Latvia Los Angeles business conference was organized by LACC in cooperation with the Foreign Ministry of Latvia, Latvian Investment and Development Agency (LIAA), AmCham and the American Latvian Association, focusing on entertainment, multimedia and technology. The conference enableed U.S. companies to learn about the advantages of conducting business in Latvia and Latvian companies to find business partners in the U.S.
Innovative Latvian companies that offer appealing products and services in the entertainment, multimedia and technology sectors and who are seeking expansion opportunities. The trade mission from Latvia was organized by the LIAA with an aim to facilitate exchange of contacts between investors and companies from relevant industries in the U.S. for the development of new cooperation and joint projects. In addition to Spotlight Latvia conference in L.A., Latvian entrepreneurs had a chance to visit San Francisco to meet venture capital investment funds, management of the world's top acceleration programs and some of the largest Silicon Valley companies. In addition, participants of the trade mission were provided with at least three focused business meetings with potential partners.
< Back to Events

Being part of AmCham community brings valuable networking opportunities in different business areas as well as informal connections within Business After Hours.
Janis Zigurs, Business Manager Baltics & Iceland at Kenvue