Creating organizations as amazing as the people inside them
Nov 12, 2020
from 18:00 till 19:00
Online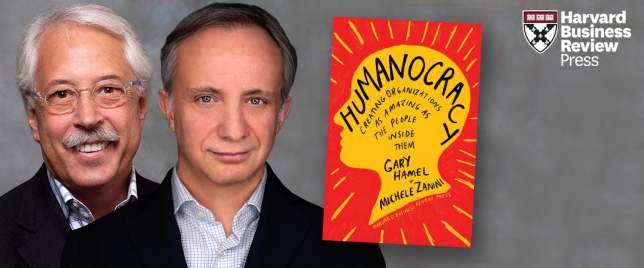 On November 12, AmCham invited members to join a webinar organized in partnership with Tatarklubben with London Business School professor Gary Hamel and co-author and co-founder of the Management Lab Michele Zanini, to explore the topic - Humanocracy. 
Ranked by The Wall Street Journal as the world's most influential business thinker, London Business School professor Gary Hamel and co-author and co-founder of the Management Lab Michele Zanini introduced the key insights from their new book Humanocracy.

In Humanocracy: Creating Organizations as Amazing as the People Inside Them, world-renowned business thinker Gary Hamel and management expert Michele Zanini make a passionate, data-driven argument for uprooting bureaucracy and unleashing the human spirit at work.
Drawing on more than a decade of research, and packed with practical examples, Humanocracy lays out a detailed blueprint for creating organizations that are as inspired and ingenious as the human beings inside them.
Critical building blocks include:
Motivation: Rallying colleagues to the challenge of busting bureaucracy
Models: Leveraging the experience of organizations that have profitably challenged the bureaucratic status quo
Mindsets: Escaping the industrial age thinking that frustrates progress
Mobilization: Activating a pro-change coalition to hack outmoded management systems and processes
Migration: Embedding the principles of humanocracy-ownership, experimentation, meritocracy, markets, openness, community and paradox-in your organization's DNA.
Gary Hamel is a founder and chairman of Strategos, and Visiting Professor of Strategic and International Management at the London Business School. He is the co-author of the international bestseller, Competing for the Future. Together with Michele Zanini, Hamel is co-founder of the Management Lab, an organization that builds technology and tools to support breakthrough management innovation.
Michele Zanini helps forward-thinking organizations become more resilient, innovative and engaging places to work. Zanini was previously an Associate Partner at McKinsey and Company and a leader in the firm's organization, strategy and financial services practices. His work has been featured in HBR, the Financial Times, and the Wall Street Journal.
< Back to Events

We are very pleased to be part of AmCham and are looking forward to driving innovation forward in Latvia.
Mikko Fernström, General Manager, Biogen Latvia