The missing link in our country branding?
Nov 21, 2019 - Nov 22, 2019
from 09:00 till 16:00
Valmieras drāmas teātris, Valmiera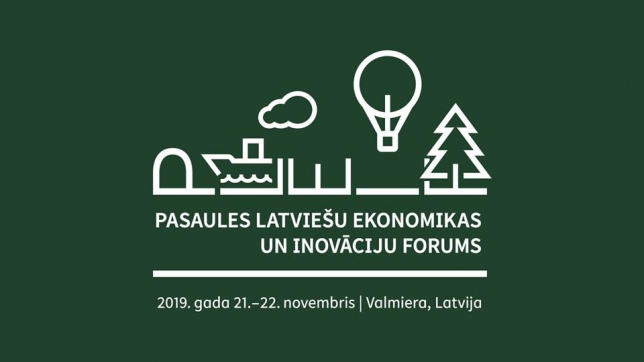 Internal communication may be the missing link in building a successful country brand. Without building an internal awareness about our nation's strenghts among the general population, including the public and private sectors, is unrealistic to create a convincing country brand. That was one of the key takeaways from the World Latvian Economic and Innovation Forum held last week in Valmiera.
This year the forum focused on the nation branding and strategic communication, education, business, talent attraction, and explored the business opportunities in some of the largest  markets: the U.S., Canada, Asia and the Nordic countries. In addition, the Red Jackets Awards were presented to the best exporting brands of Latvia.
More than 300 people gathered for the World Latvian Economics and Innovation Forum/Pasaules latviešu ekonomikas un inovāciju forums (PLEIF) 2019 on November 21-22 in Valmiera, Latvija.
Kristine Saulitis, Chair of the Board of World Federation of Free Latvians: "During those two days of the forum, we touched upon very important issues, and I truly believe that after these discussions, talks and presentations, we will be able to take the next step and start pushing processes at the national level and to promote Latvia's image and economy as a whole." 
AmCham was represented in the forum by several members speaking at various sessions: Ingrida Karina-Berzina, AmCham President and Partner at COBALT; Pauls Miklasevics, AmCham Vice President, Janis Bergs, President of SAF North America; Ivars Slokenbergs, Principal at Slokenbergs PLLC; Artis Kehris, Director of Printify; Martins Lacis, Board Member of Latvijas Finieris; Zane Culkstena, Owner of ERDA; Martins Tiknuss of Gateway & Partners and more. 
A short video about the forum is available below:
On November 21st four panel discussions were dedicated to the following themes:
The story of Latvia we tell ourselves and the world, moderated by Andris Rubins, Managing Partner of DDB Latvia;
Education as the driving force for the future economy, moderated by TV3 news anchor and journalist Arnis Krauze;
Latvia? What to tell your business partners, moderated by journalist and commentator Pauls Raudseps;
Attracting and retaining talent in Latvia, moderated by Zane Culkstena, Managing Director of ERDA Group.
Among panelists were both public and private sector experts and successful business people including Andris K. Berzins (Change Ventures), Janis Bergs (SAF Tehnika), Kristine Grapmane (Stenders), Aivars Flemings (VALPRO), Ingrida Karina-Berzina (COBALT, AmCham), Artis Kehris (Printify), Ralfs Nemiro (Minister of Economy), Agnese Lace (Providus), Janis Oslejs (Primekss Group), Zane Olina (Skola 2030), Vita Timermane-Moora (Latvian Institute) and many others.

During the 1st day of the forum The Red Jackets Awards were presented to the best exporting brands of Latvia. President of Latvia Egils Levits was the guest of honor of the Awards ceremony. The ceremony was led by Inese Andersone (The Red Jackets), Zanda Kalnina-Lukasevica (Parliamentary Secretary of the Ministry of Foreign Affairs) and Anna Fisere-Kalke (Citadele banka).

From all the nominees for the title "The Red Jackets" and "Rising Stars", the jury carefully selected 10 leading Latvian export brands: Catchbox, Crosschem, Dores Factory, Erica Synths, GameChanger Audio, Kote Labs, Kronus, Pranamat Eco and Volburg as well as 10 Rising Stars: Alina, Azeron, Babbit and Friends, Felici, Polylabs, Riga Jurmala Music Festival Management, Smartfoody, Solfeg.io, Solid Coffee and Tom Adam.

On November 22, 4 practical workshops about business opportunities in markets such as the U.S., Canada, Asia and the Nordic countries were explored by experienced business people including Janis Bergs (SAF Tehnika/USA), Roberts Dlohi (PERUZA), Martins Kengis (SKONTO PREFAB) Martins Lacis (Latvijas Finieris), Pauls Miklasevics (BlueOrange), Ivars Slokenbergs (Slokenbergs PLLC/USA), Olavs Ritenis (Ventures International Group/Singapore), Oskars Stucis (Karrikins Group/USA), Karlis Vasarajs (Imtex Membranes/Canada), Aleksander Cakste (Massfluencer; LWC Properties/Sweden) and Martins Tiknuss (Gateway & Partners).
The forum aims at facilitating knowledge exchange and practical interaction between business professionals in Latvia and elsewhere in the world.
The forum was organized by the World Federation of Free Latvians, Valmiera City Council and the Ministry of Foreign Affairs. It co-hosted by AmCham, Ar Pasaules pieredzi Latvijā, Gateway & Partners and The Red Jackets.

More information: https://www.pleif.lv/
< Back to Events

Roche Latvija is pleased to be part of the AmCham community.
Rauls Vēliņš, General Manager, Roche Latvija