Improving cancer care coordination and screening in Latvia
Mar 16
from 19:30 till 21:30
Radisson Blu Elizabete Hotel, Elizabetes street 73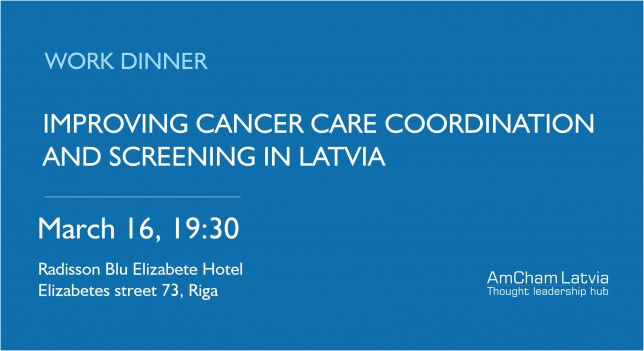 On March 16, AmCham hosted a dinner meeting for members of AmCham's Healthcare work group, key healthcare stakeholders in Latvia and a group of experts from the EU Technical support project "Improving cancer care coordination and screening in Latvia and Slovakia" at Radisson Blu Elizabete Hotel.

Professor of the University of Latvia Marcis Leja introduced participants with the project "Improving cancer care coordination and screening in Latvia and Slovakia" and AmCham Healthcare Working group representatives presented an overview of AmCham Healthcare work group's priorities and activities in the area of the oncology patient registry.

He explained that the main goal of the project is to reduce inequality and provide comprehensive cancer care services to the majority of the Latvian population, as well as to reduce the burden of cancer on the state and help the government improve cancer prevention and cancer care services.
"We are aware that there are a number of achievements in Latvia, but the major problem is that most of them have been done individually due to uncoordinated inter-institutional and institutional communication. I think that the project activities will help the specialists to meet, understand what the competencies of the respective institutions are and what can be achieved within the framework of cooperation," emphasized Professor Marcis Leja.
Rolands Lappuke, Adviser to the President on Smart Technologies and co-chair of the project, explained that a very significant benefit of this project for Latvia would be to promote the improvement of health data flow.
According to Dr. Partha Basu, Senior Expert of International Agency for Research on Cancer, the goal is to help create a comprehensive cancer care system in Latvia and to achieve greater equality with Europe in the care and treatment of cancer for the people of Latvia.
About the project:
"Improving Cancer Care Coordination and Screening in Latvia and Slovakia" is a project funded by the European Commission (EC) Technical Assistance Instrument (DG REFORM) and initiated by the Institute of Clinical and Preventive Medicine of the University of Latvia. The project involves foreign experts from the International Agency for Research on Cancer (IARC) and the ERASMUS Medical Center (Rotterdam, the Netherlands), as well as the Organization for European Cancer Institutes (OECI), which will provide its expertise to improve processes and implement the necessary services.
< Back to Events

AmCham reflects our values and enables us to meet similarly-minded people.
Daiga Auzina-Melalksne, Chair of NASDAQ Riga