Reich Montage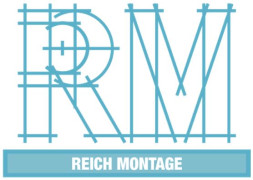 The Reich Group is a group of companies grown up from American company Reich Installation Services, which was founded in 1989 in Pewaukee, WI, USA to meet the expanding needs of the material handling industry. Started as a locally based company Reich Installation Services Inc. in the USA, Reich Group has grown to an international provider of custom installation services with the goal to create a strong and motivated workforce to exceed industry standards.

In 2022 Reich Group entered in Europe by establishment of two European companies under name Reich Montage – in Czecz Republic and Latvia. During one year Latvian entity REICH MONTAGE SIA is grown up to a company counting over 100 employees and having revenue over €4,5 Million by executing warehouse equipment installation works in Europe and the United States.

Reich Montage Latvia is specialized on developing and training qualified personnel having specialty of mechanics, welders and electricians to perform equipment installation works in automated warehouses for such companies as Walmart, BMW, Edeka, Nestle, IKEA all around a globe in cooperation with world leaders in production of equipment for intralogistics and automation - American and European based companies Symbotic, SSI Schaefer, Knapp, Witron, Stow.
< Back to Members

AmCham provides S3 a great opportunity to connect with business community.
Agne Stojakove, Market Vice President, Country Manager Strategic, Staffing Solutions International