Member Focus Lunch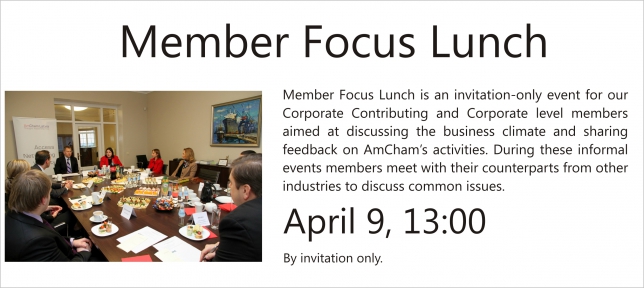 A small group of Corporate Contributing and Corporate members met to discuss their businesses and to provide feedback on AmCham activities.
This was a good opportunity for members to meet their counterparts representing various industries and the AmCham board. In members' view AmCham plays an important role in improving the business and investment environment in Latvia and provides the right combination of events. During the meeting members shared their ideas about existing programs and suggested some new events that could be organized, for example, an event for youth - students and young professionals. The Member Focus Lunch is a platform for members to find out how they can be involved more in the Chamber's activities and to use AmCham as a communication hub for the distribution of information and the cooperation with other companies.
Each Corporate Contributing and Corporate member company will be invited to one of these lunches to share their feedback on AmCham's role and activities.
Sponsored by NASDAQ OMX Riga.


< Back to News

AmCham represents the interests of its members, making membership a valuable asset.
Matiss Kukainis, Partner at Spigulis & Kukainis