Rimi launhces campaign for Care Mobile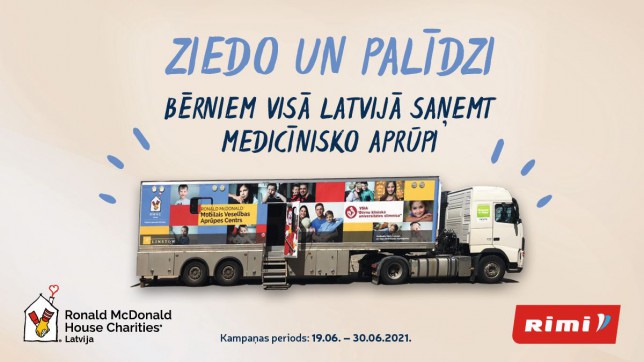 From June 19 to June 30, Ronald McDonald House Charities Latvija (Care Mobile) jointly with Rimi Latvia organizes a fundraising campaign that will help to provide free medical advice and consultations to children throughout Latvia.
You can help Care Mobile by donating:
in donation boxes located at store checkouts throughout Latvia
your Rimi card savings
on Care Moble website www.rmhc-latvia.lv
About Care Mobile:
In close cooperation with the Children's Clinical University Hospital of Latvia the Care Mobile reaches every town in rural areas where access to health-care remains difficult. Care Mobile provides consultations of ophthalmologist, ears, nose and throat doctor, allergist, neurologist, endocrinologist, gastroenterologist, speech therapist, dermatologist un orthopaedist.
< Back to News

Membership is an attestation that we belong to the modern Latvian business community.
Dace Silava-Tomsone, Managing Partner, COBALT