VA Government joins Rud Pedersen Group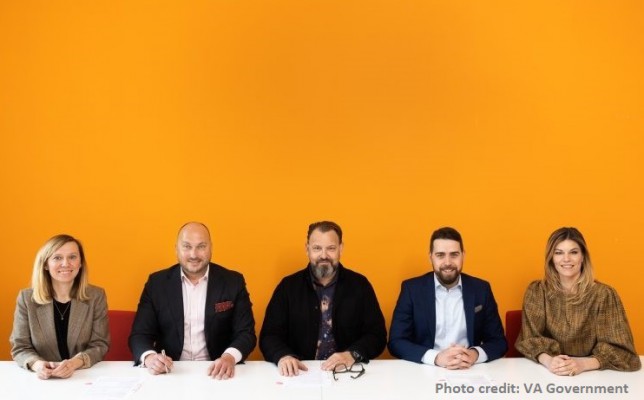 Strategic communications agency VA Communications (otherwise known as – Vīlands Associates) and public affairs firm VA Government join the Rud Pedersen Group, becoming their exclusive partner in Latvia. The Rud Pedersen Group is the leading and fastest-growing Nordic public affairs and communications group in Europe.
The Rud Pedersen Group has acquired a 20 percent stake in both companies, meaning that existing partners of VA Communications and VA Government still own a majority of shares. With the addition of VA Communications and VA Government, the Rud Pedersen Group strengthens their offerings in the Nordics, Europe and Latvia.
The addition of VA Communications and VA Government to the Rud Pedersen Group will drive additional growth for both companies. It will benefit both employees and clients with the transfer of new international knowledge of corporate affairs in combination with creative and marketing communications expertise. The Rud Pedersen Group has over 350 consultants and more than 70 employees in the Baltic countries alone. As a result, VA Communications and VA Government will be able to better support their clients in major European capitals such as Brussels, London, Stockholm, Berlin and Warsaw.
"We see that our existing and potential clients highly appreciate a contemporary public affairs and communication approach rooted in Nordic values that aligns with the current challenges faced by the clients. Hence a long-term and in-depth cooperation with the Rud Pedersen Group is a natural next phase in VA Government's development, strengthening our position on the Latvian market and developing local public affairs industry in general," comments Vladlens Kovaļevs, Partner at VA Government and VA Communications.

Rud Pedersen Group CEO and President Morten Rud Pedersen says: "With our strong Nordic heritage, the expansion to the Baltic is very logical and we are now happy to be in all three countries. Our clients are looking for integrated solutions, and I am very pleased that we can now provide the best offering in the region. VA Communications and VA Government are companies built by entrepreneurs who wanted to challenge the market, just like we do in Rud Pedersen."
About Rud Pedersen Group
The Rud Pedersen Group was founded in 2002 by Morten Rud Pedersen in Gothenburg, Sweden. Now the Rud Pedersen Group has grown into one of the largest public affairs and strategic communications consultancies in Europe with over 350 employees in 12 offices in 11 countries – Stockholm, Brussels, London, Berlin, Copenhagen, Warsaw, Oslo, Gothenburg, Helsinki, Tallinn, Vilnius and now Riga. In 2020, the Rud Pedersen Group acquired stakes in Fabula, Lithuania's largest communications agency. The brands Rud Pedersen Public Affairs, King Street, Welcom and RP People are all part of the Rud Pedersen Group.
< Back to News

Together with AmCham we can develop our networking not only in the local market with local companies, but also reach out to good partners far away from Latvia.
Ugis Grigorjevs, Head of Sales at Nordwoc