New interns this summer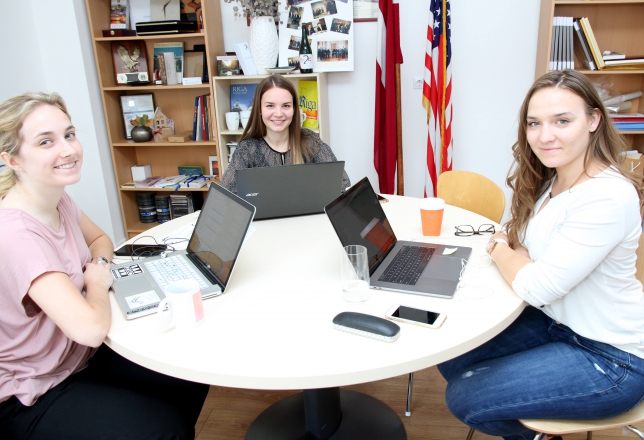 This summer AmCham is joined by three new interns: Rebeka Goba (right), Reičela Heinrihsone, and Krista Roze (left). They help with various duties such as copy editing, communications, and event planning.
Krista Roze is a second-year student currently studying psychology at Boston College. Next year alongside her studies she will be a research assistant in a cognitive psychology lab. She learned Latvian through a volunteer-based Latvian school in Indianapolis and further attended the U.S. Latvian-American summer camp, Garezers. She looks forward to spending the summer in Latvia visiting relatives and singing with the Boston Latvian Choir at the centennial Song and Dance Festival.
According to Krista, "My grandparents came to the U.S. from Latvia during WWII and passed on the Latvian language as well as the culture to parents and further to myself. Because of their impact, I've always been interested in Latvia and its relations with the U.S., where I've lived my whole life. Through AmCham I am striving to gain insight into the working of foreign relations."
Reičela Heinrihsone just finished her second year in Minerva Schools at KGI in San Francisco, CA, and is working towards her bachelor's degree in Natural and Social Sciences. Her further plan is to study medicine and improve the public healthcare system in Latvia.
Reičela said: "During my studies in the United States, I have met many talented and hardworking people and heard stories about the multitude of opportunities that one can find there. While I appreciate my experience there, in the long term I wish to live and work in Latvia. I believe that the relationships between Latvia and America are very important and can have a positive impact on the economies of each country, and AmCham is one of the mediums through which this important communication can be facilitated. "
Rebeka Goba is currently studying political science at the University of Latvia. In June she will graduate from the university and her further plan is to study conflict studies focusing on the Middle East region.
Rebeka said: "My current research interest focuses on U.S. politics, with my bachelor thesis particularly looking at their foreign policy. I have always been keen to explore American culture and way of life. I believe that my internship at AmCham will give me an exclusive and crucial insight into the relations between Latvia and America, primarily in business and commerce, thus broadening my current knowledge and in the long-term contributing to my future research and career. "
We are delighted to welcome Krista, Reičela and Rebeka to our team and look forward to their contribution in the wide variety of AmCham programs.
< Back to News

AmCham and PwC share the same values and targets to achieve socially.
Zlata Elksnina-Zascirinska, Country Managing Partner at PricewaterhouseCoopers