Supporting employees affected by the crisis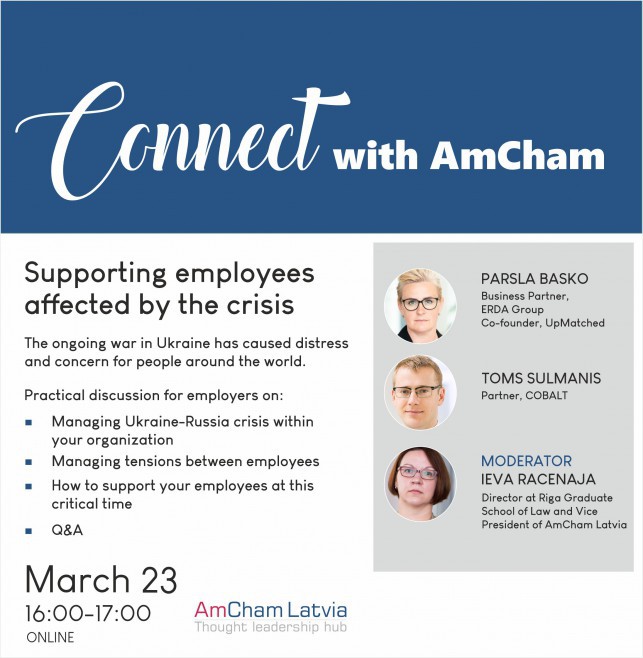 On March 23, members were invited to the Connect with AmCham webinar to discuss how to manage Ukraine-Russia crisis within organizations, lessen tensions between employees and ways to support employees at this critical time. Our experts and members Pārsla Baško, ERDA and Toms Šulmanis of COBALT gave practical examples for employers who experience tensions and conflicts between different views and are concerned about the wellbeing of their employees.
Pārsla Baško, emphasized that employee safety should be the first concern during times of war and it's important not to overlook how geopolitical shocks might impact employees' mental and emotional well-being. She suggested that it is very imporant to listen to employees, organize one-to-one meetings and to be open to different views and opinions. She added that diversity, equity abd inclusion issues in workplace have become of utmost importance.
Toms Šulmanis of COBALT pointed out that legal aspects have become crucial and employers should keep all documents and information in case they might be involve in some legal disputes.
The event was moderated by Ieva Rācenāja, Director at Riga Graduate School of Law, Vice President of AmCham Latvia and Chair of AmCham Labor Force work group.
About the Speakers:

Pārsla Baško, ERDA
Pārsla Baško is one of the Baltics' leading experts in strategic HR, corporate branding, communications and employer branding. She has worked in key positions at international companies such as Rimi Baltic Group, Carlsberg in the Baltic States, and Schneider Electrics. Pārsla has significant experience in large-scale business strategy change management projects, including successfully working as a lead expert on merger and sensitive business transformation projects. Ms. Baško holds a professional master's degree in business administration from the Stockholm School of Economics in Riga.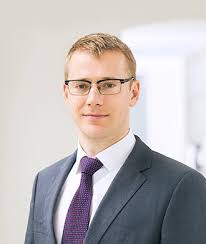 Toms Šulmanis, Partner, COBALT
Toms Šulmanis heads the Employment & Immigration practice group in COBALT Latvia. Toms has 20 years of experience in the fields of M&A, Corporate/Commercial, Real Estate and Employment, including representation of clients in acquisition and sale of trade centers, commercial and residential developments, advice on all aspects of construction process, drafting and negotiating of commercial leases. Toms has also represented clients in complex corporate and employment matters, like restructuring of operations, redundancies, dealing with trade unions.
Moderator: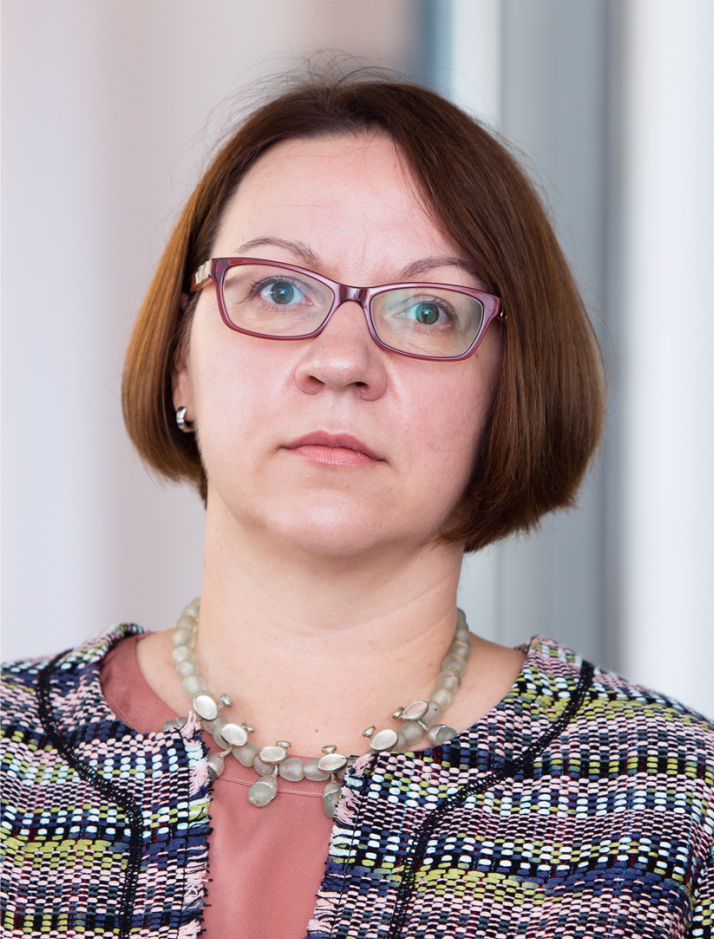 Ieva Rācenāja, Director at Riga Graduate School of Law, Vice President of AmCham Latvia and Chair of AmCham Labor Force work group
Prior to joining Riga Graduate School of Law Ieva has built a 20+ year career in the financial industry in Latvia and abroad.


Connect with AmCham online webinars aim to share knowledge of our members, as we navigate through the COVID-19 crisis. If you would like to share best practices in your area of expertise that could be helpful for the international business community, we are here to listen and learn from you!
< Back to Events

Today is the key moment to demonstrate the values we share with AmCham and support like-minded businesses
Jekaterina Novicka, Partner of Business Development, Orients Audit & Finance