Why corporates engage in social initiatives?
Jan 29, 2019
from 18:30 till 21:00
Klavins Ellex, Kr.Valdemara 62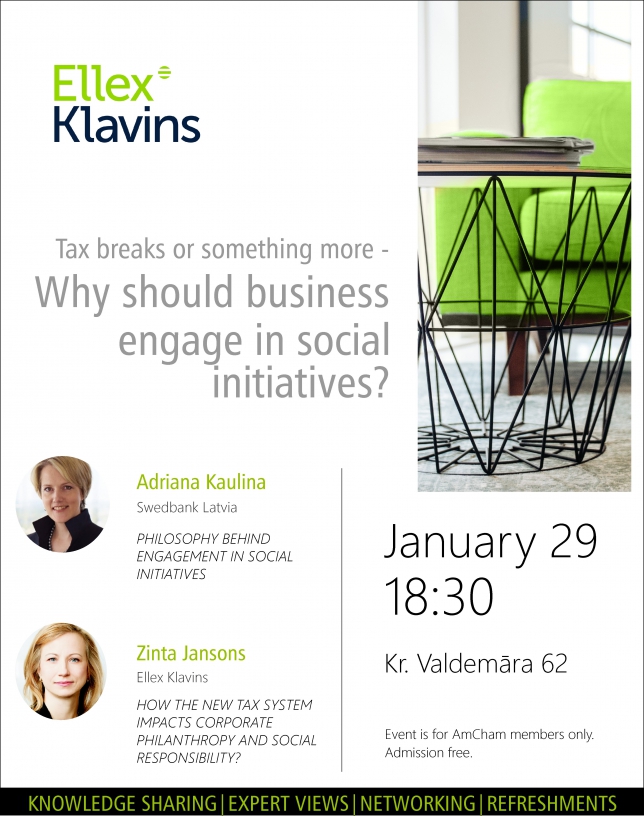 Our first evening of networking of this year was kindly hosted by our member Ellex Klavins on January 29 at their premises at Kr.Valdemara 62.
Adriana Kaulina from Swedbank gave a presentation on "Philosophy behind egagement in social initiatives". According to Adriana companies who are donating to charities or supporting projects and programs are looking for novelty and their role or niche in a certain project or program. It is no longer an option to offer companies to promote their logo or a banner. If the progam is not evolving, it is not attractive to sponsors. It is the reason why good programs are loosing their support and sponsors are droping off.
Zinta Jansons partner at Ellex Klavins and Vice President of AmCham Latvia gave a presentation on the topic "
How a new tax system impacts corporate philanthropy and social responsibility
". Zinta explained that companies can make charitable donations to organizations of public benefit status up to certain limits without being taxed on their income. She added that social responsibility has always been at the heart of practice and a benchmark of Ellex Klavins strategy. Ellex Klavins wants to make an impact on the communities in which they work and live. They are committed to sharing their time, professional knowledge, financial and human resources to a variety of pro bono, sponsorship and charitable activities. They are supporting culture and art projects, educational initiatives and make contributions to charitable causes.
To view her presentation
Following the presentations guests had the opportunity to enjoy good company, excellent wine and delicious snacks.
The traditional door prize drawing was also related to the philathropy. Winners of this drawing received a bottle of good wine and a gift card from ziedot.lv.

We are grateful to Ellex Klavins for hosting a truly interesting and informative event!

< Back to Events

AmCham works hard to accomplish its goals and is a voice in the business community that is heard.
Filips Klavins, Managing Partner at Ellex Klavins