Are you ready for GDPR?
Apr 04, 2018
from 18:30 till 21:00
Grand Hotel Kempinski Riga, Aspazijas bulv. 22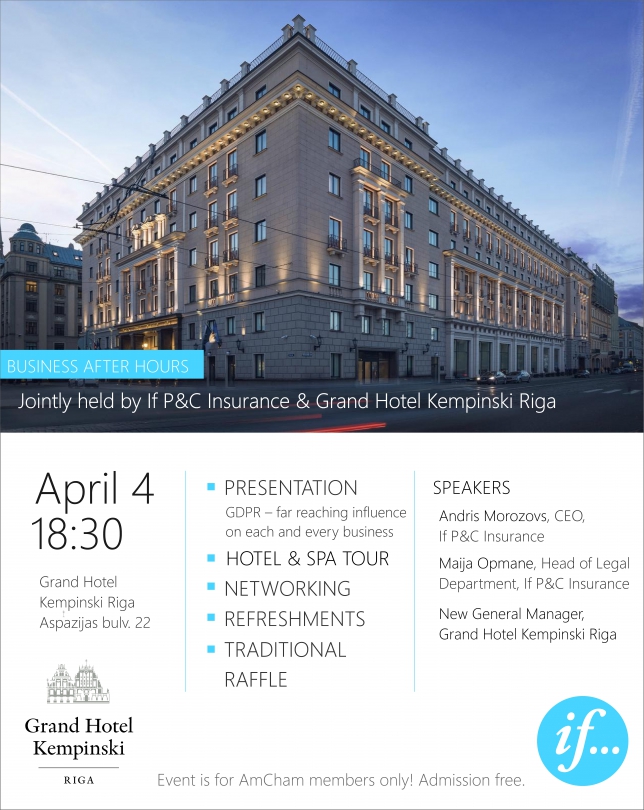 On April 4 AmCham members If P&C Insurance AS, branch in Latvia and Grand Hotel Kempinski Riga jointly hosted Business after Hours at Grand Hotel Kempinski Riga.
The program began with a presentation on "GDPR - far reaching influence on each and every business" by If P&C Insurance. Representatives of If P&C Insurance shared their experience in establishing compliance with GDPR as well as their findings and learnings to raise awareness and help businesses to identify potential risks and avoid trouble. 
They pointed out some examples of risks most of businesses are exposed to such as:
- Implications to HR processes & providing services for your employees
- Implications to data stored by employees on company computers or kept on paper somewhere in their drawers
- Implications evolving out of use of fancy online tools or apps to solve standardized problems
- Implications to sharing daily business related information within the company
- Risk of connected systems – data exchange with your customers or suppliers
- Risk of «full moon factor» – possible information request terror from individual data subjects
- And other far reaching implications.
The program continued with a traditional raffle that included a 100 EUR gift certificate from If P&C Insurance and Day spa for two from Grand Hotel Kempinski Riga.
Speakers were as follows:
-Andris Morozovs, CEO, If P&C Insurance
-Maija Opmane, Head of Legal Department, If P&C Insurance
-Elena Verenchuk, Director of Sales and Marketing, Grand Hotel Kempinski Riga

In the course of the evening there was a chance to take a tour around the Grand Hotel Kempinski Riga. The tour included the hotels sophisticated restaurant, bar, finest suites and a spectacular view of Riga from the 8th floor terrace. 
The event was attended by more than 50 members. During the event, members also engaged networking and enjoyed excellent refreshments!

On behalf of AmCham, we would like to express our gratitude and appreciation to both organizers for organizing such a great event!
< Back to Events

AmCham works hard to accomplish its goals and is a voice in the business community that is heard.
Filips Klavins, Managing Partner at Ellex Klavins