What measures are employers taking?
Apr 16, 2020
from 15:00 till 15:45
Online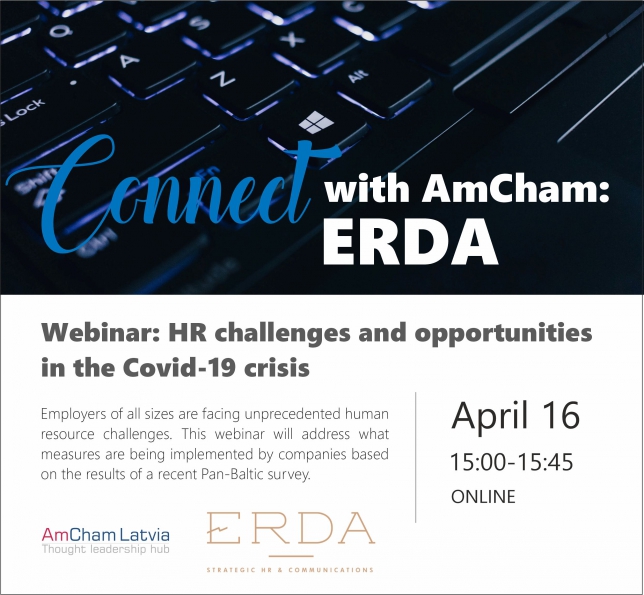 Employers of all sizes are facing unprecedented human resource challenges. There is a lot of uncertainty in terms of what measures to implement and how to best address the situation.
On April 16, AmCham members were the first to find out the results of a survey recently conducted by 
ERDA
 on HR challenges and opportunities brought by the Covid-19 crisis. During our second webinar in Connect with AmCham series ERDA presented main findings including risks and opportunities of the survey based on information provided by more than 100 companies in the Baltics on topical activities and new solutions for problems employers are facing in times of Covid-19 crisis. Among opprotunities were listed strategic workforce planning, revising existing tools and importance of trainings and communication.
Speakers: 

- Pārsla Baško, Partner & Strategic Consultant of 
ERDA
Pārsla is one of the Baltics' leading experts in strategic HR, corporate branding, communications and employer branding. She has worked in key positions at international companies such as Rimi Baltic Group, Carlsberg in the Baltic States, and Schneider Electrics. Pārsla has significant experience in large-scale business strategy change management projects, including successfully working as a lead expert on merger and sensitive business transformation projects. Ms. Baško holds a professional master's degree in business administration from the Stockholm School of Economics in Riga.

- Zane Čulkstēna,  Founder of 
ERDA
Zane had expertise in Philanthropy Advising and Employer Branding before there was a name for it. During her experience in advertising, she always insisted that business activities have to be supported by employee engagement. Meanwhile, Zane firmly believes Corporate Social Responsibility and Philanthropy activities have to be aligned with business goals and always bring social value.
AmCham webinars are organized in order to provide relevant expert knowledge and share best practices between members in the context of circumstances resulting from the global pandemic. 
< Back to Events

AmCham is a place to meet representatives of other industries and understand the business environment.
Signe Velina, Market Access Manager Latvia of Johnson & Johnson