What is Latvia's competitive advantage?
Sep 10, 2020
from 13:30 till 15:30
Online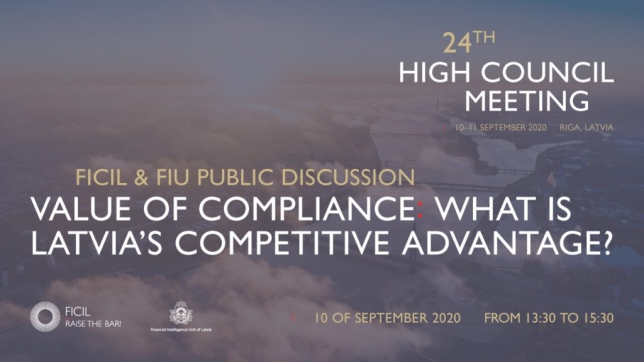 As part of the Foreign Investors Council in Latvia 24th High Council meeting, FICIL and the Financial Intelligence Unit (FIU) organized a live public discussion "Value of compliance: What is Latvia's competitive advantage?" on September 10. 
The panel of distinguished experts included:
Santa Purgaile (FCMC)
Kaspars Rožkalns (LIAA)
Ilze Znotiņa (FIU)
Zlata Elksniņa Zaščirinska (FICIL)
Reinhold Schneider (Schwenk)
The discussion was moderated by Mr Morten Hansen, Head of Economics Department at SSE Riga.
FICIL member Reinhold Schneider from Schwenk emphasised that a huge issue for Latvia is grey economy that distorts compliance culture. He mentioned that he does not see many financial and economic crime prosecutions. Ilze Znotiņa, Head of the Financial Intelligence Unit stressed that the FIU is trying to facilitate a safe investment environment rather than trying to endanger real investment.
Revisit the discussion at Foreign Investors' Council in Latvia Facebook page.
< Back to Events

AmCham provides S3 a great opportunity to connect with business community.
Agne Stojakove, Market Vice President, Country Manager Strategic, Staffing Solutions International