5 things you must know about grant funding for business
Jan 15, 2014
from 11:30 till 14:00
Radisson Blu Hotel Latvija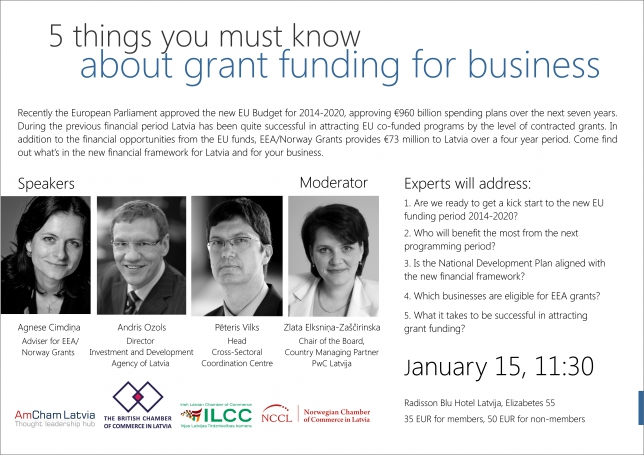 Yesterday the American, British, Irish and Norwegian and Chambers of Commerce in Latvia held a business luncheon themed "5 things you must know about grant funding for business" to discuss EU funding for business.
Recently the European Parliament approved the new EU Budget for 2014-2020, approving €960 billion spending plans over the next seven years. In addition to the financial opportunities from the EU funds, EEA/Norway Grants provides €73 million to Latvia over a four year period.
We invited the following experts to share their knowledge and opinion:
• Agnese Cimdiņa, Adviser for EEA/Norway Grants;
• Andris Ozols, Director of Investment and Development Agency of Latvia;
• Pēteris Vilks, Head Cross-Sectoral Coordination Center.
The event was moderated by Zlata Elksniņa-Zaščirinska, Chair of the Board and Country Managing Partner of PwC Latvija.
Experts addressed the main priorities for the new EU funding period 2014-2020, their alignment with the National Development Plan and accessibilty and eligibility of EEA grants for business.
To view the presentation of Andris Ozols
To view the presentation of Agnese Cimdiņa
To view the presentation of Pēteris Vilks
< Back to Events

We are very pleased to be part of AmCham and are looking forward to driving innovation forward in Latvia.
Mikko Fernström, General Manager, Biogen Latvia