The journey of telecommunications in Latvia
Jan 15, 2016
from 11:30 till 14:00
Mercure Riga Centre Hotel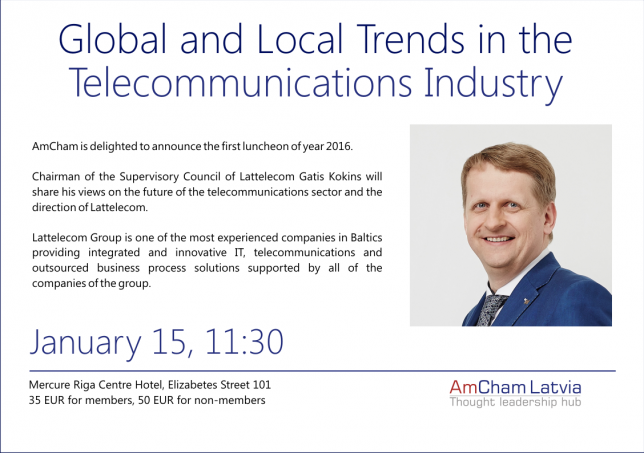 Gatis Kokins, Chairman of the Supervisory Council of Lattelecom addressed AmCham on January 15, 2016. He offered his views on the global and local trends in the Telecommunications industry and spoke about further direction of Lattelecom.
Mr. Kokins explained the history, ownership structure, revenue model and services of Lattelecom. He also expanded on the digital single market: "Latvia could become the role model for the rest of EU and there are huge opportunities ahead." He added that Riga is already among top WiFi hotspots in Europe.

Regarding the competition, Mr. Kokins was sure the largest challenges are continued innovations between systems, not necessarily between companies.

Mr. Kokins concluded his presentation by giving an overview of strategic direction of the company and possible merger with LMT. In his view, the merger would be beneficial to both customers and stakeholders as it would increase the competition.

Asked about the next trends, Gatis Kokins named two – the world will get even more connected and the role of entertainment will grow significantly, shaping the telecoms industry even further.
< Back to Events

AmCham is based on values and behaviors that enable its members to fulfill a common purpose - a sustainable and transparent business environment, and we are truly proud to be a part of this growing community.
Edgars Skvariks, Corporate Public Affairs Manager at Bayer