Regional business development is key
Jun 05, 2013
from 11:30 till 14:00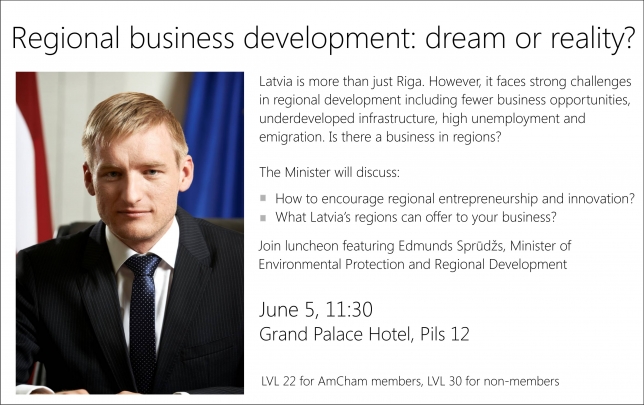 The Minister of Environmental Protection and Regional Development, Edmunds Sprudzs addressed AmCham on the challenges of regional development and emphasized that it is important for him to get back to people in businesses as frequently as possible. He introduced members and guests with the pilot program to support Latgale as one of the most depressed regions of Latvia. According to Sprudzs this program is extremely important for Latvian regional development from a different perspective, mainly due to factors affecting businesses. While it concentrates on business development and creating jobs the main purpose of the program is to raise motivation and self-esteem of people in Latgale. Furthermore, the Minister was certain that business development should be sustainable.

Recently the ministry has established an institution that is far apart from central government and is less bureaucratic than the rest of the government, but at the same time close enough to municipalities and businesses in the region. This initiative, the Latgale Business Center, focuses on three main targets: operating businesses, attracting foreign investors and creating new businesses.
The Minister was candid to speak about the challenges of urban and regional development: "I don't like to make a comparison of Riga and the rest of Latvia. Riga is and will be the driver of the Latvian economy and that should become a great advantage for Latvian regions," told Sprudzs.
< Back to Events

We re-affirm our commitment to the values that AmCham stands for and that we share.
Kārlis Danēvičs, Board member, Head of Credits and Risk at SEB Banka